The winner hopes her story will inspire more people to experiment with redesign and contribute to achieving the UN Sustainable Development Goals.
Maren Solnes (16) won the writing competition "Write for Future!" with her story about how she understood the seriousness of climate change and decided to make her hobby more sustainable. Maren impressed the jury with a well written, informative, and inspiring personal story about her willingness to change and the joy of redesigning her own clothes.
600 youth signed up for the competition and the jury was overwhelmed by all the beautiful stories submitted. The youth wrote short personal stories about climate change, the environment, and their hopes for a sustainable future based on their own reflections, experiences, and emotions.
10 selected stories have been illustrated and will be published at our Instagram @climateillustrated and here on the website in the coming days and weeks.
The writing competition is organized by Climate Creativity with support from Sparebankstiftelsen DNB.
---
Story by Maren Solnes
16 year old student at Nadderud videregående skole, Norway
The Clothing and Textile Industry is responsible for up to 8 percent of the world's greenhouse gas emissions and nearly 20 percent of global wastewater, according to the UN. It is the trends we've been following for the past years that have allowed these numbers to grow.
When I was little, I chose textiles without considering the consequences. Now I'm 16 and I see that it is no longer possible to keep doing this. To keep doing my favorite hobby, I need to think in sustainable ways.
My grandmother taught me to sew when I was seven years old. We would sit in her tiny sewing room for hours. Stacks of different textiles in all kinds of colors were neatly organized in cabinets and drawers. I remember the first time we shopped for textiles together and I bought my very own fabric. When we entered the store, I froze and just kept looking around. It was one of the most important experiences I had as a child. Everything was as organized as in my grandmother's sewing room, but a hundred times bigger. For me, it was heaven.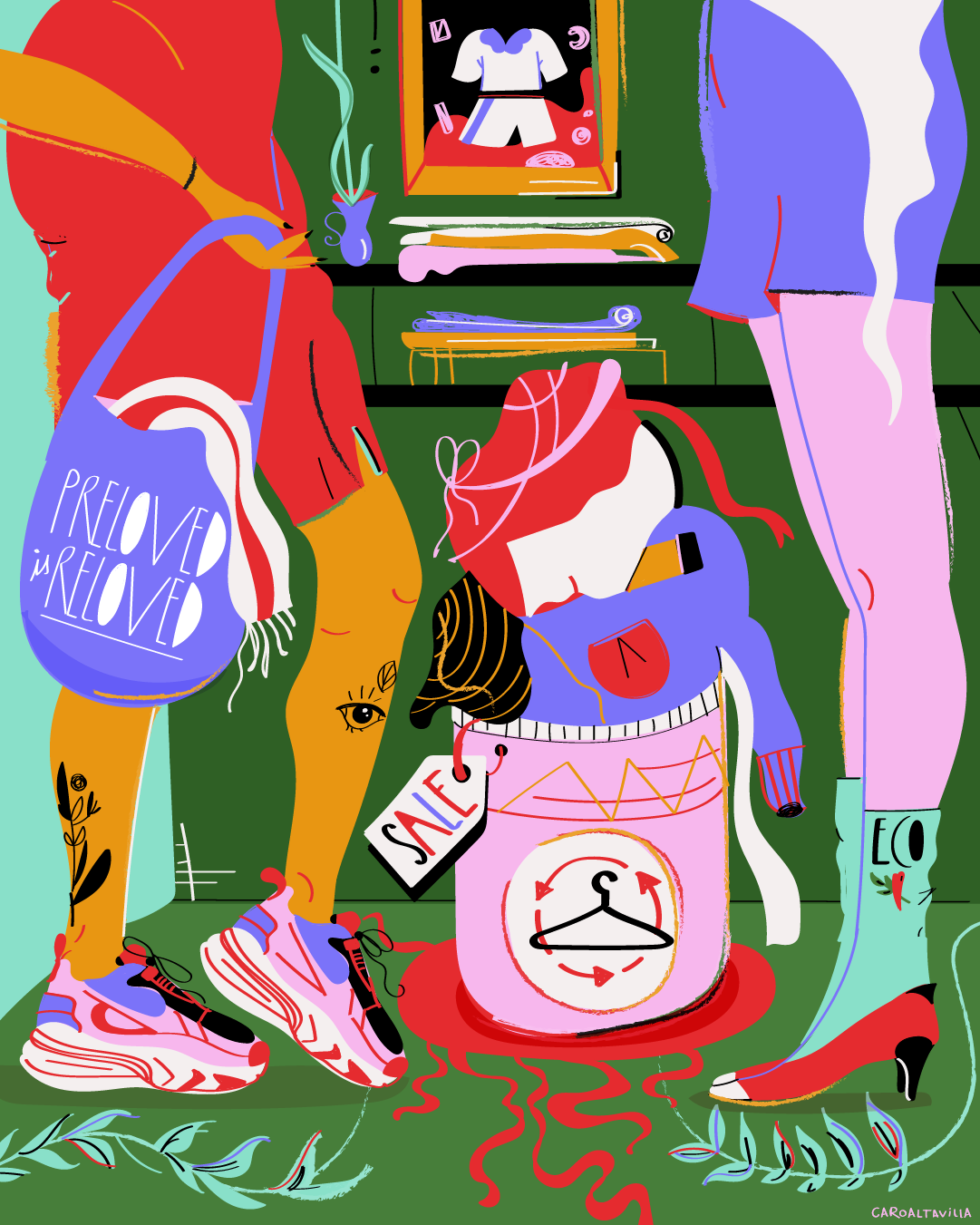 Sewing is one of the things I love doing in my free time, but it's not necessarily a sustainable hobby, something I realized at 13. The textile store I discovered when I was 7 did not have the same appeal to me anymore. I changed to a more sustainable store. The second-hand store became my new best friend.
I'm convinced that second-hand textiles and clothes are part of the solutions, and I encourage everyone to do like I did. Second-hand items are just as good or better than new textiles, and way better for the environment. Buying second hand is a way to create a new and more sustainable trend.
---
Interview: Get to know the girl behind the story
Marte - In your story you write that you became aware of sustainability in relation to your hobby at the age of 13. What made you become engaged in sustainability?
Maren - I became engaged in sustainability after watching a documentary in school and learning about the UN Sustainable Development Goals. The documentary showed different scenarios happening around the world, and how this will impact myself and the rest of the world in the future. I think this was the first time I understood how serious climate change is, and how I was contributing to the emissions that cause climate change. I remember thinking that the Sustainable Development Goals will be really hard to achieve by 2030. Even as a 13 year old, I was not very optimistic regarding the action taken. Still, I realized that there were simple things I could do myself, like being more careful when selecting fabrics for my sewing projects, and looking for new possibilities.
"Even as a 13 year old, I was not very optimistic regarding the action taken. Still, I realized that there were simple things I could do myself, like being more careful when selecting fabrics for my sewing projects, and looking for new possibilities."
Marte - Redesigning clothes has become very popular in Norway lately. What is so fun about combining design, clothes, and sustainability?
Maren - What is especially fun about redesign is that everything you make is unique. Personally, I think it's nice to think about how a fabric or a piece of clothing I redesign becomes something entirely new and usable, while still carrying the history of the former item. Redesign is not only about buying second hand, it's also about using what you already have at home or what you are handed down by friends. This is what makes the "new" item so charming. I experience that people love their garments even more when they redesigned it themselves or have someone redesign it for them.
Marte - How did you experience taking part in the writing competition?
Maren - Writing my story was fun and a new experience. In school we rarely write texts like this, and I was happy to write a personal text that can inspire others. I've never taken part in a writing competition before so it was a new and exciting experience.
Marte - What would you like to say to the readers?
Maren - I would like to encourage more people to try out redesign. It can be something simple like patching a pair of pants, or changing the sipper in an old jacket that still fits. It's not difficult, and such a tiny repair can add months or years to the garment's life. In this way we can become more sustainable and help stop climate change.
---
Jury members
Jury decision Maren writes in a beautiful and personal way about one of the biggest contributers to climate change, the textile industry. The writer conveys statistics and what these numbers really means for her personal life. She pinpoints the problem while she concludes that everyone plays an important role on the road to a sustainable future. Maren tells an inspiring story that have the potential to help others find their role in the struggle for climate justice.