Read stories about climate change, sustainability, and hope by students participating in Climate Creativity's writing competition for Norwegian youth.
Write for future is a writing competition for students at secondary school and high school. We invited the students to share a personal story about what motivates them to take climate action, what they feel about climate change, and their hopes for a sustainable future. The stories are based on the youth's own reflections, experiences, and emotions.
600 youth signed up for the competition, and the jury was impressed by the students' writing skills, as well as their rich insights and deep understanding of the causes and impacts of the climate crisis.
The ten stories selected by the jury clearly show that you do not need to become a politician or activist to contribute to creating a sustainable world – these young storytellers are taking action on their family's farm, in their group of friends, by greening their hobbies, and initiating sustainable change at their workplace.
Children and youth are the ones who will live the longest into the future we are currently shaping, and they have had the least to say about it, so it's time to listen to their stories.
The writing competition is supported by Sparebankstiftelsen DNB.
Are you a teacher in Norway who wants to sign your students up for our next story competition? Drop us an email!
---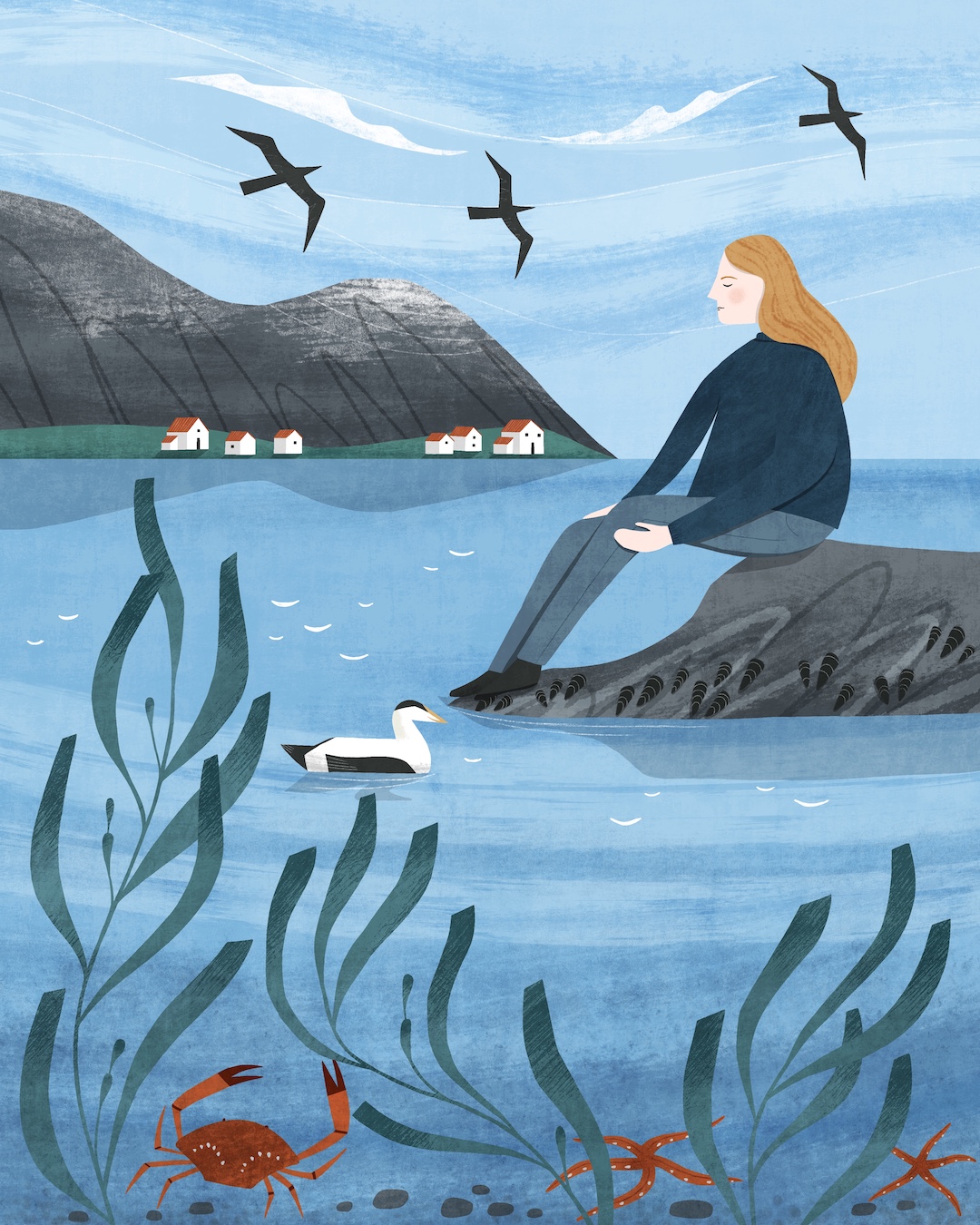 Personal Story
Story by Eva Vatnedal Nordtveit, Ølen vgs.
Illustration by Holly Astle @hollyastle.
In my local fjord and in the fjords around Norway, mussels are disappearing.
From a young age I remember going down to the ocean to swim and look at all the different sea creatures. One of my favorite activities was to catch the crabs on the beach. My brothers and I used to catch them by grabbing a handful of mussels from the dock. That was the easy part. The hard part came when we would then crush the mussels and attach them to a string and sit around waiting for the crabs to start nibbling on their food. We had to be patient. The smell of the ocean breeze, the white and speckled crabs hiding under the bright green kelp and the sounds of the waves crashing onto the beach. These are memories I will always treasure.
I fear that the next generation won't be able to experience the same things I did growing up. Now, the hardest part of catching crabs has become finding the mussels. They have started disappearing because of the rising ocean temperatures. Not only does this make me fear that the next generation won't be able to catch crabs, but I fear they won't be able to experience ocean life at all.
Global warming doesn't just affect life on land; it affects all life on earth. And all life should be appreciated and protected.
We can all help prevent this by reducing our greenhouse emissions we release ourselves and by voting with nature in mind to reduce our nation's emissions. I hope and I believe that we can keep global warming under control so that future generations will get to experience the gorgeous marine life we have been blessed with.
---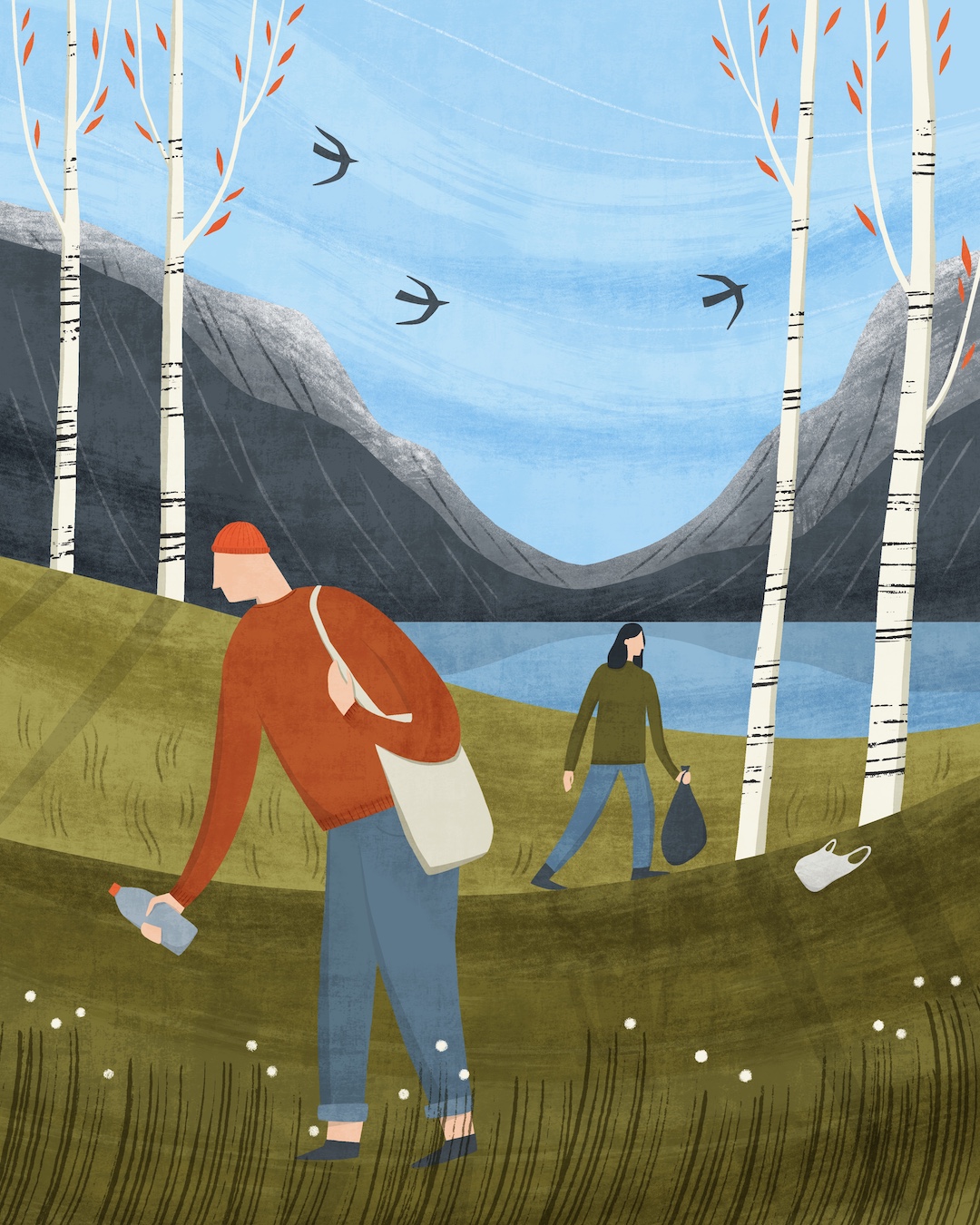 Litter in the world
Story by Brian Solvang (16), Sjøvegan vgs.
Illustration by Holly Astle @hollyastle.
I've experienced my friends littering many times. When we've bought soda and chocolate from the store, they'd just throw away the packaging which ends up on the ground or in the ocean.
Several times I've tried to pick up after them, but I find it challenging. I think other people feel this way, too. I end up feeling like the uptight one in the group, that my friends don't want to hang out with me because I'm boring.
So, what happens to the trash that is left in nature? Nothing! What happens to the litter that is thrown in the ocean? Either it sinks, is eaten by other animals, or gets washed up on shore.
There is so much litter in the world. On the ocean floor, in the deepest forests, and right outside of the door to your home. When I leave my house, it does not take long before I spot something that does not belong there. In our community, we often gather to pick up litter by the roadside and on beaches. We do it for the environment and so it will be nice and cozy returning to these places.
From my point of view, littering is one of the most serious harms we inflict on the environment in our daily life. It might be hard to stop it entirely, but hopefully we can limit the problem. I do all I can, but I'm just one person amongst billions of people, so I often feel that what I do almost doesn't matter at all.
---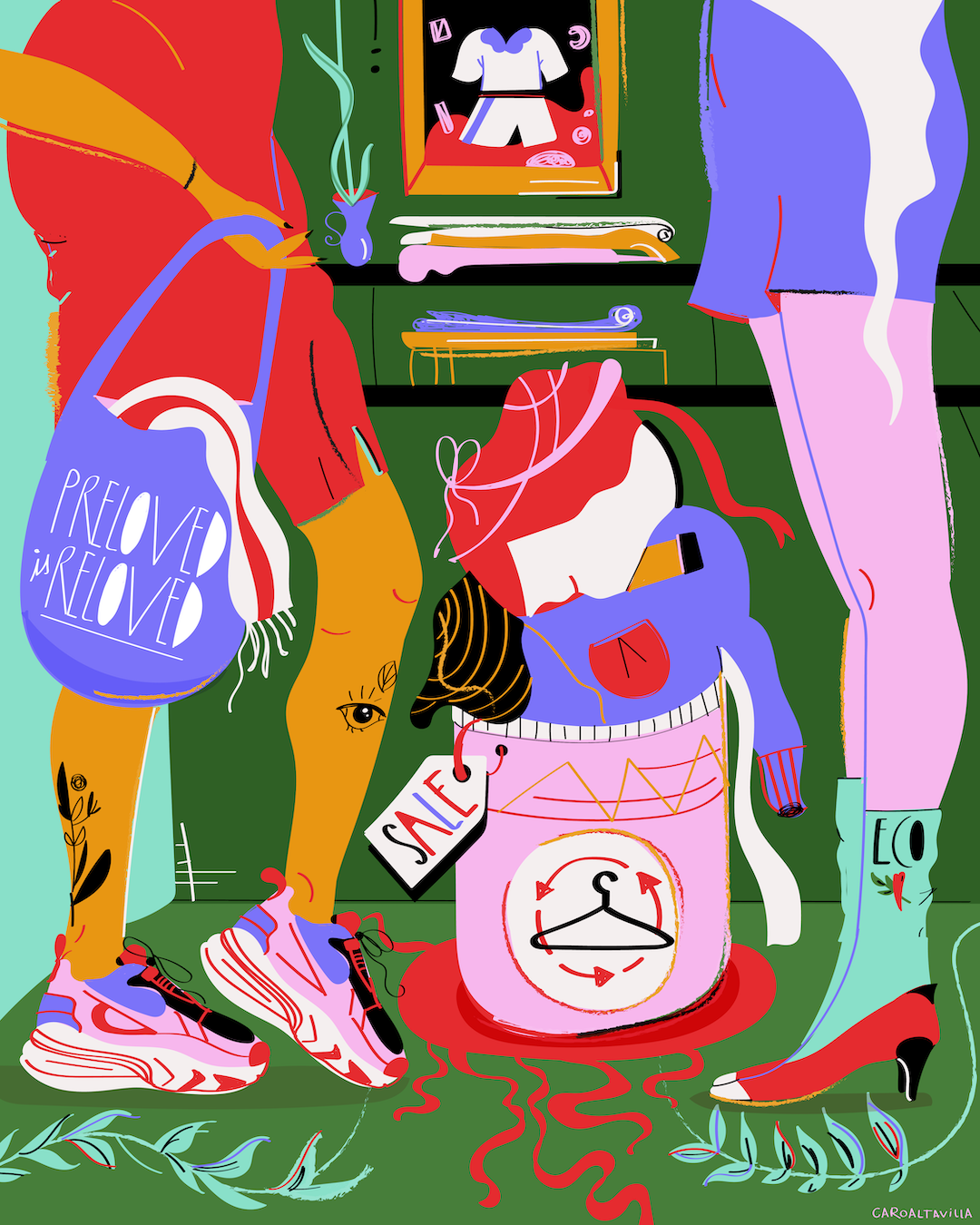 Story by Maren Solnes (16), Nadderud vgs.
Illustration by Carolina Altavilla @caroaltavilla.
​​The Clothing and Textile Industry is responsible for up to 8% of the world's greenhouse gas emissions and nearly 20% of global waste water, according to the UN. It is the habits we've formed over the past years that have allowed these numbers to grow.
When I was little, I chose textiles without considering the consequences. Now I'm 16 and I see that it is no longer possible to keep doing this. To keep doing my favorite hobby, I need to think in sustainable ways.
My grandmother taught me to sew when I was seven. We would sit in her tiny sewing room for hours. Stacks of different textiles in all kinds of colors were neatly organized in cabinets and drawers. I remember the first time we shopped for textiles together and I bought my very own fabric. When we entered the store, I froze and just kept looking around. It was one of the most important experiences I had as a child. Everything was as organized as in my grandmother's sewing room but a hundred times bigger. For me, it was heaven.
Sewing is one of the things I love doing in my free time, but it's not necessarily a sustainable hobby, something I realized at 13. The textile store I discovered when I was 7 did not have the same appeal to me anymore. I changed to a more sustainable store. The second hand store became my new best friend.
I'm convinced that second hand textiles and clothes are part of the solutions, and I encourage everyone to do like I did. Second hand items are just as good or better than new textiles, and way better for the environment. Buying second hand is a way to create a new and more sustainable trend.
---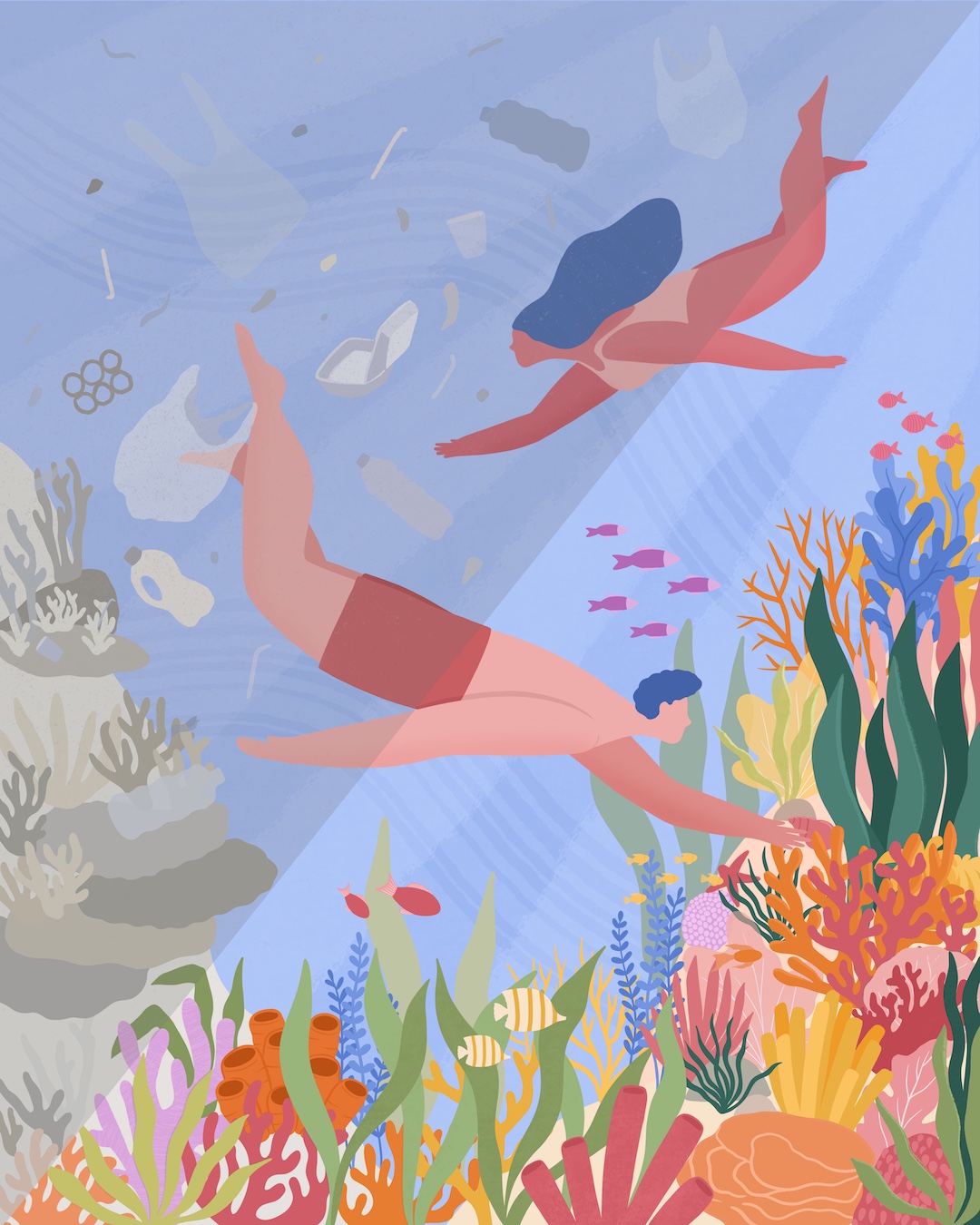 Hope
Story by Jasper Sæther, 8th grade, Flåtestad skole.
Illustration by Burcu Koleli @burcukoleli.
My hope for a sustainable world is that people will stop throwing plastic where it does not belong. It starts when plastic litter is taken to a stream by heavy rain. The stream leads to a river, and the river all the way to the sea where a fish eats the plastic and dies, and eventually all the fish in THE WORLD die off. Then the seabirds die along with other animals who eat fish until everyone dies of starvation, including HUMANS. It is important that plastic litter ends up in the trash so all the fish don't DIE. I hope for more trash cans and nature-friendly alternatives to plastic.
---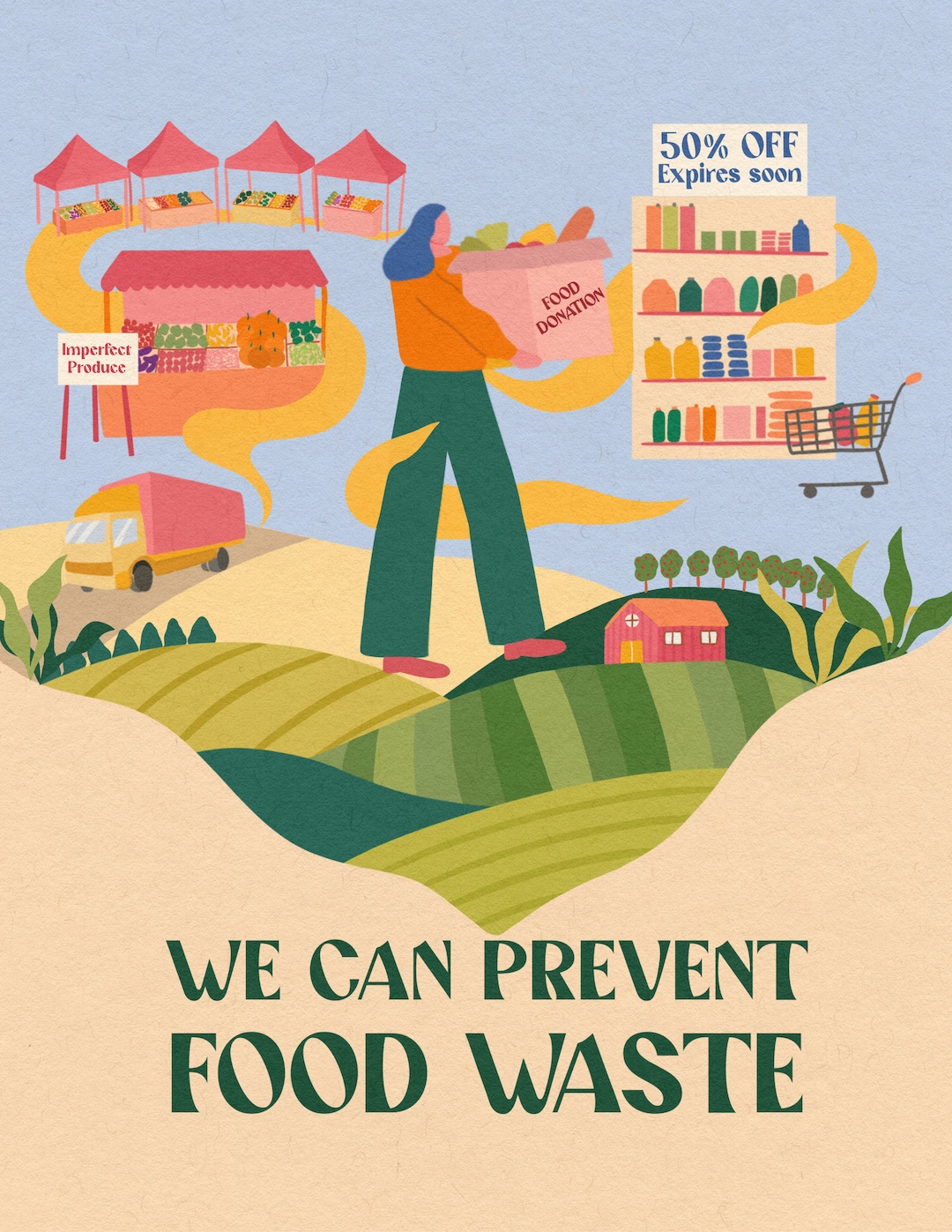 We must waste less food!
Story by Malin Delos Santos (15), Rjukan ungdomsskole.
Illustration by Burcu Koleli @burcukoleli.
I work in a food store where I cook and clean. The job is okay and I get to earn my own money, but I think it's stupid that we throw away so much food. In Norway, we waste 417,000 tons of food every year. Isn't that sick?
Think about all the food we could give to others instead of dumping it. I know that many food chains let a lot of food go to waste. Why not just give the food away or sell it for half the price?
In Norway we are privileged, but we should think about those who cannot afford food. Imagine all the food they could get instead of this food ending up in the trash.
I've asked my boss if we can sell the food for half the price instead of dumping it, then the store would get a profit too. He told me he liked the idea, but nothing has happened since I brought it up. I still have to throw away as much food as before.
I think we can all do better. If the food has expired, it does not mean it's bad. If it smells okay, you can still eat it. And if you have some extra food, there is no harm in sharing.
---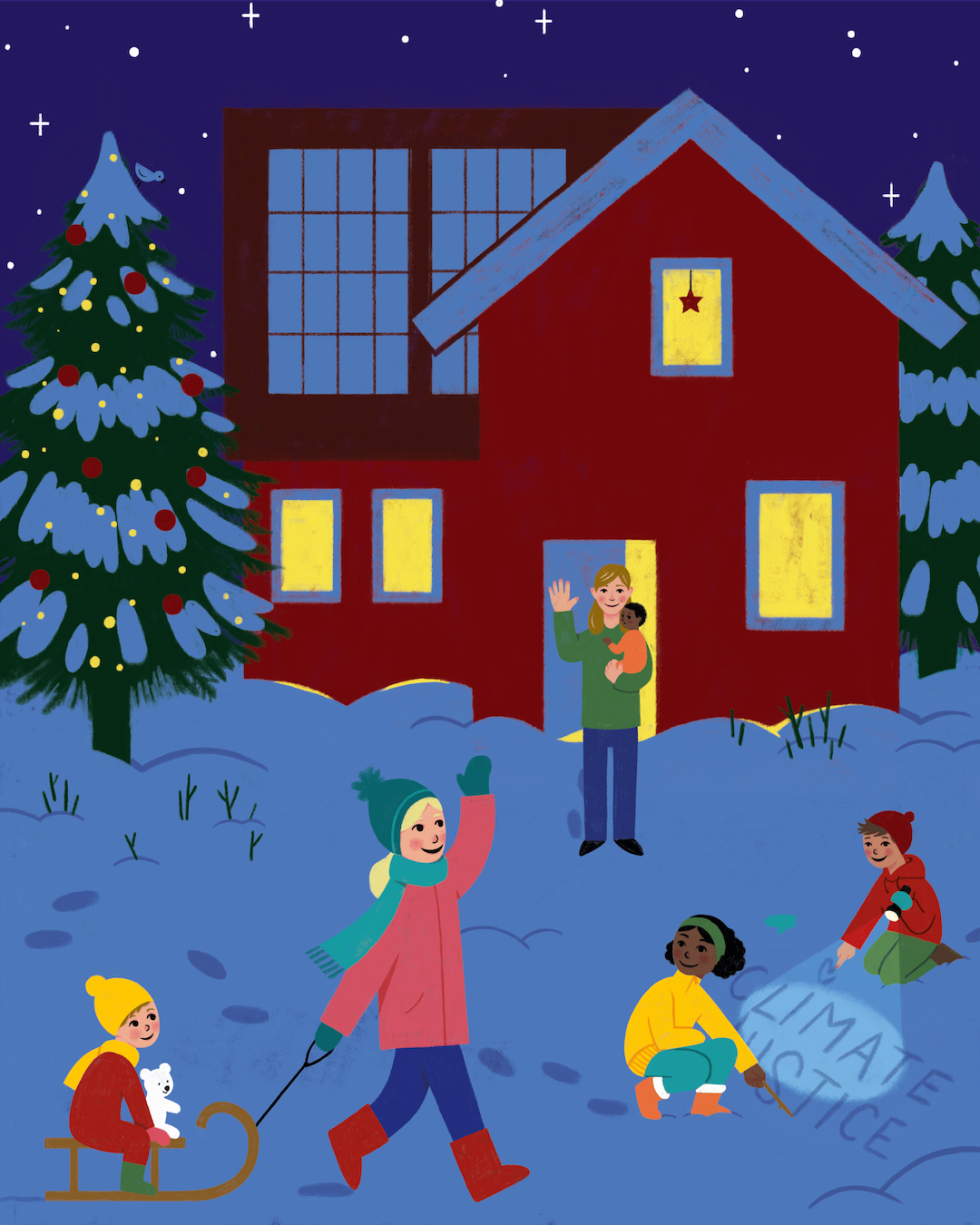 The climate crisis
Story by Maja and Amanda, 8th grade, 8th grade, Flåtestad skole.
Illustration by Luise Hesse @lufie.nesse.
Do the politicians really care? And how far are they willing to go? Since we started school, Erna (the former Norwegian Prime minister) said she would do something, but year after year passes and nothing happens. Now we have a new Prime minister. Will he do something about the climate crisis?
When we try to understand what is going on in the brains of the politicians, we feel they only think about themselves and their own generation and not about us, the generation that is to inherit this earth.
When you were children, you had polar bears, sea turtles, koalas, and snow. When we grow up and have children, we want our children to experience this, too. We want them to have the chance to play in the snow at Christmastime. What is Christmas in Norway without snow?
We can't stand to wait any longer. You must do something now. It is SERIOUS. We don't want words or speeches, we want action.
---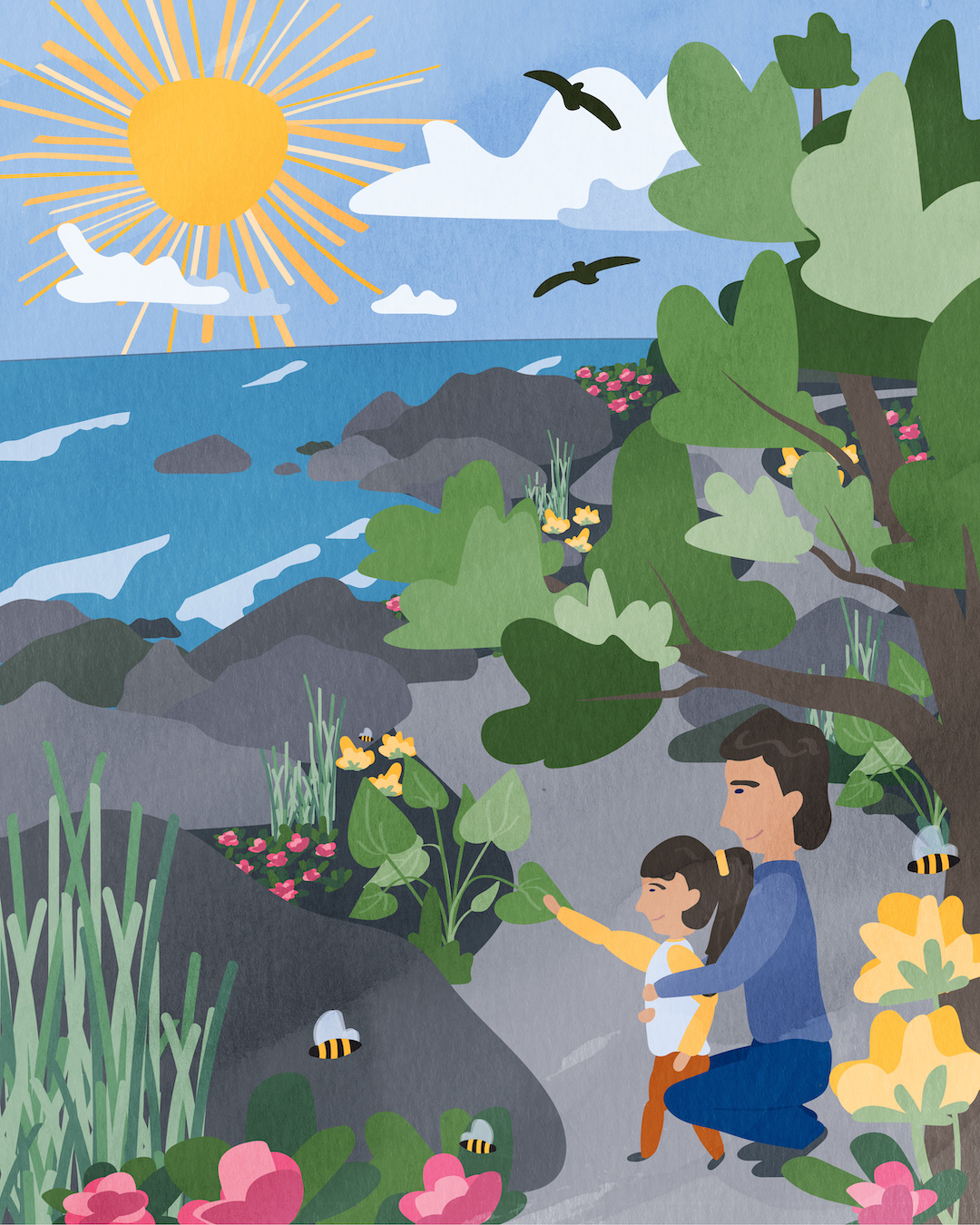 My children
Story by Matias Militaru, Ølen vgs.
Illustration by Ashley Quay @thewildquay.
When I think about my future, I think about my children. The joy of life, sources of happiness, and a beacon of hope. As a small child, I loved nature, the wilderness, and the unknown. The green leaves, the blue sea, and the yellow sun make me feel abundance more than anything else. 
The smell of the grass, the touch of the trees, and the noise of the wind. If you have nature, you have everything you need. I want my children to feel the same type of happiness as I have felt outdoors. I want them to be able to run in the fields, enjoy nature's goods, and watch the beautiful animals. I want them to enjoy nature the same way as I have. I am afraid they won't experience nature's beauty. 
If we don't make changes before it's too late, there is no going back. Your future children and their children won't be able experience the nature's beauty. There is no undo button. There is no exit button. Our earth is all we have, and we need to take it seriously. We can sit and speak about what we should do, what we could do, and what we would do but words without action are pointless. We need action more than talking! 
The more we wait, the less time and the smaller chance we have to save our earth, and the bigger chance there is of losing everything we love on it. That's why I am challenging you to start doing the small things you think don't matter and take it from there. You will be surprised by how much it actually matters!
---
A healthy planet
Story by Vilde Braae (18), Rud vgs.
Illustration by Luise Hesse @lufie.nesse.
What motivates me to make the world a better place? The constant reminder that we're living in an ongoing climate and environmental crisis is a big motivating factor.
Another thing that motivates me is the indescribable dis-ease I feel when watching the news. Every time my father rejoices about the warming temperatures in Norway, I cry on the inside because I know the reason why this is happening. Every time I go for a walk on the hillside, there is no song to hear from the cuckoo. Every time I go to the beach with my goggles and dive down to pick up a shell, only to realize it is a small piece of an aluminum can. Every time I stand in the grass on Christmas Eve, looking toward the sky and dreaming of making angels in the snow. Every time I turn on the television and see an interview with someone who has been evacuated from their home because of flooding.
I also find motivation being outdoors - to go out, look at the clouds, inhale clean air and feel that I am doing my lungs a favor. That's how it's supposed to be. And this is how it can be(come) again. It's not too late, and that is a big motivation for me.
---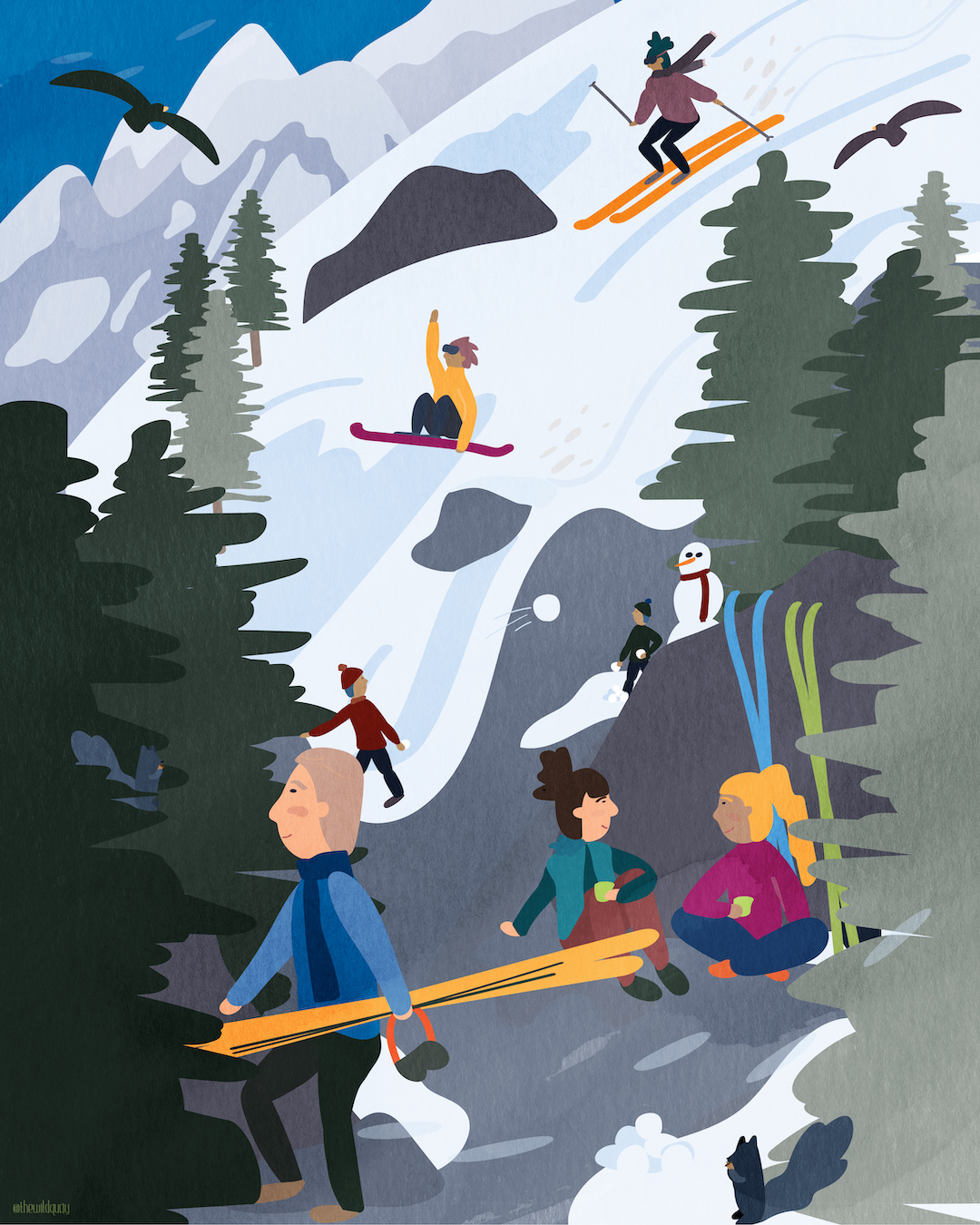 Playing in the snow
Story by Mikkel Zinck Haugen (15), Rjukan ungdomsskole.
Illustration by Ashley Quay @thewildquay.
Since I was little, I've loved skiing. I've been snowboarding, doing cross country and alpine skiing. I remember the joy I felt standing on the top of the ski slope. I'll never forget that feeling.
I speak about this because if we continue to pollute, the snow will eventually vanish completely and then we can no longer ski. There will be no more snowball fights, sledding, or snow caves, and I think that is so sad. When I was younger, playing in the snow, it never occurred to me that all snow might one day be gone. My only focus was on having fun.
I want to stop global warming so the snow won't disappear and so future generations don't have to worry about the loss of snow. I want future generations to play in the snow without a single worry, like I did when I was little.
---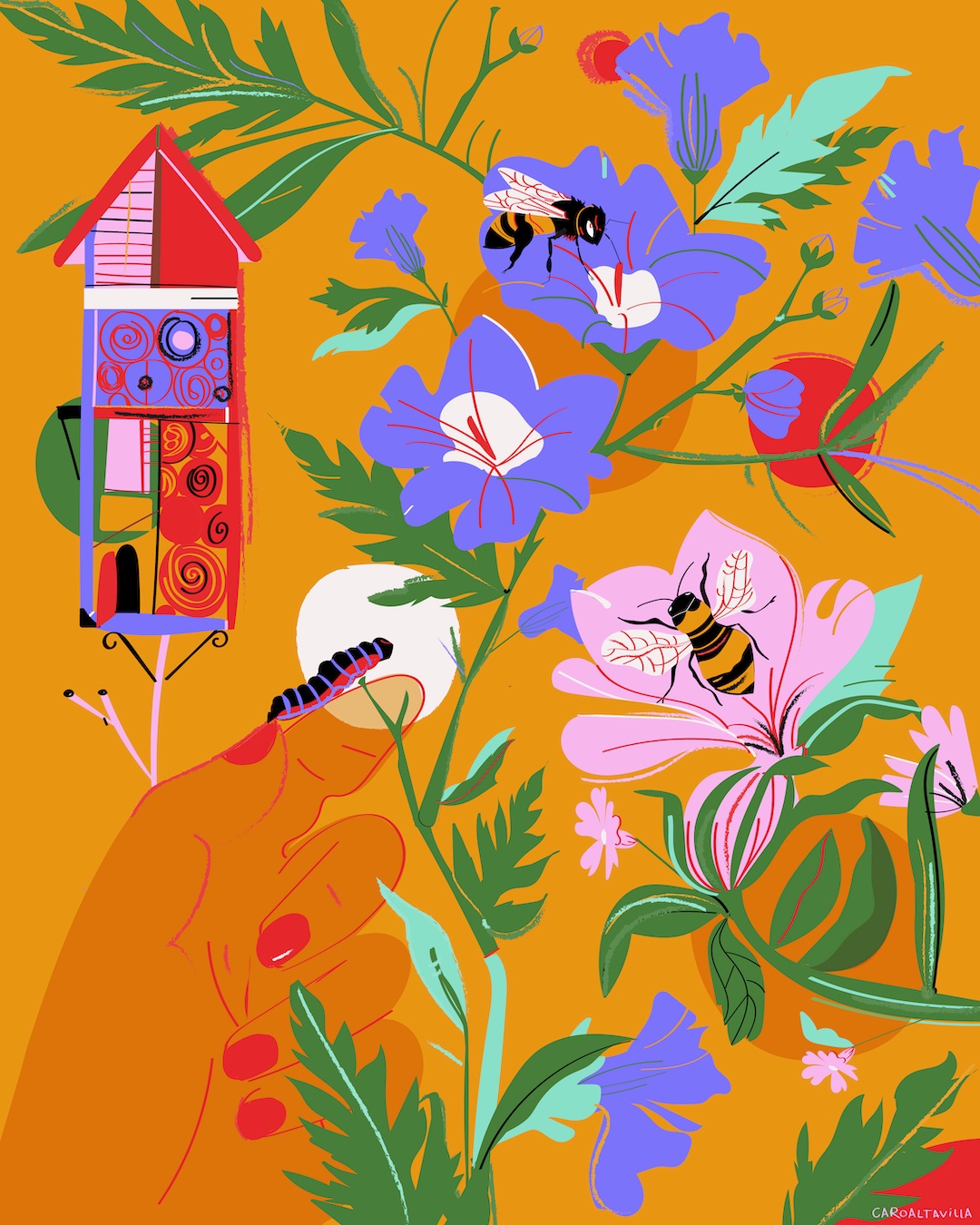 Write for future
Story by Hanna Håvarstein Lothe, Ølen vgs.
Illustration by Carolina Altavilla @caroaltavilla.
Bees. We need them to survive. We need the bees to help the flowers turn into fruit and vegetables. They pollinate our crops which makes food production possible. If all the bees went extinct, it would destroy the ecosystems we rely on.
The last few years I have noticed there are fewer and fewer bees throughout the summer. There is a reason why. The climate is getting more harsh and harder for them to live, and their natural wildflower habitats have been taken over by buildings and cities. The bees have nowhere to settle down.
That is why my family has started beehives, so we can help the bees from going extinct. We plant bee-friendly flowers, and we have an organic farm, so everything is free from pesticides. Last summer I saw so many bees because of our beehives. I was so happy every time I saw them. I hope that in the future I will see bees everywhere even if I am home or not.
To help the bees survive, you can plant bee-friendly flowers. This might seem simplified, but it's very necessary. You can just buy or make seed bombs and then throw them in nature. Also remember to not kill the bees when they come inside your homes or other buildings! Find a cup or something else to let them out. If you have access to a hammer and some tree-planks, bee hotels are also easy to make.
If we all do this, I really think the bees can survive, and that will help us survive, too. If we all take care of the wildflowers and bees around, I don't think they will go extinct, and critical ecosystems won't remain endangered.
---
Jury members