We recognize the importance of Indigenous knowledge and stewardship, as well as the severe challenges many Indigenous people face around the world. Through this story project, we particularly highlight Indigenous voices. However, everyone with a deep connection to land, and a strong commitment to climate justice and decolonization, is welcomed to share their stories.
"Voices of the land: Decolonizing sustainability" is a series of short and personal stories. We encourage storytellers to share their emotions, reflections and insights, and build their story around a personal experience or memory.
Get in touch if you, or someone in your community, would like to share a story.
---
Sumak Kawsay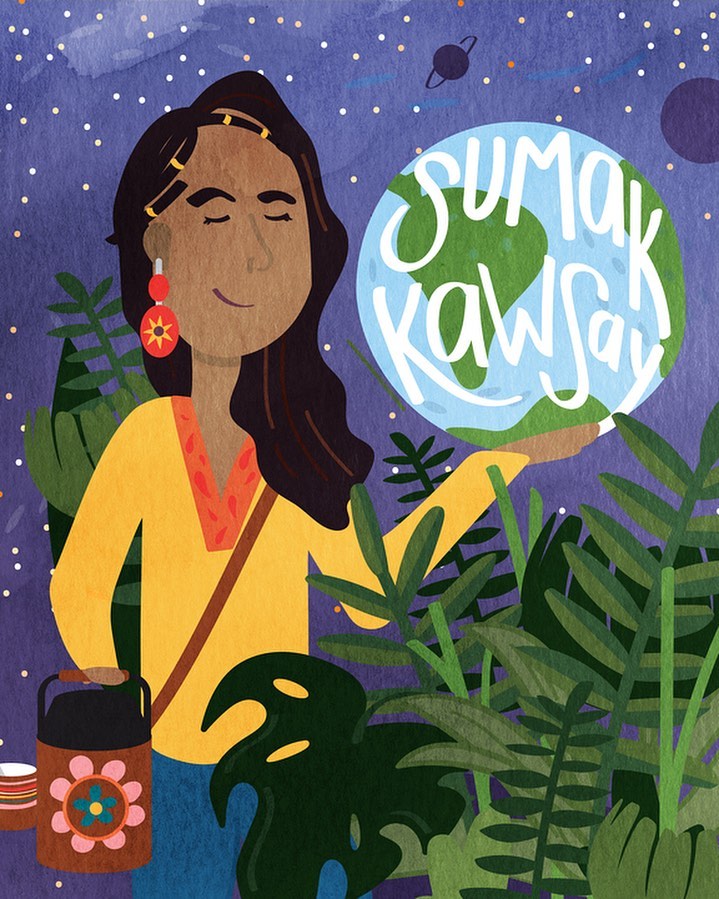 Story by Joyce Najm Mendez @multiculturalsustainable.
Illustration by Ashley Quay @thewildquay.
I am often asked where I am from, and as a multicultural person who grew up migrating from country to country, looking for a safe and peaceful place to live, I see myself as an earthling on a planet without borders.
I consider home where my climate action started, at the triple border of Paraguay, Brazil, and Argentina, home of the Iguazú Falls. Right under its soil lies one of the biggest reservoirs of fresh potable water in the world: the Guarani Aquifer. Although my journey in climate change did not start underground, but rather far above it – as an amateur astronomer.
In high school and the first years of university, I researched astrobiology and exoplanet habitability, in order to analyze what makes an exoplanet habitable. I gradually realized the uniqueness of our planet, as a dynamic stable system, nevertheless, its boundaries being threatened by climate change, and thus our existence.
I understood the urgency to adapt my life project to become a catalyst for social and environmental transformation. Over the past 10 years, I've devoted my energy and time actively to work in climate action through transboundary cooperation, and integration in Abya Yala (Latin America), by co-founding several youth organizations, engaging local and regional grassroots movements across the region. Learning from extraordinary kids and youth the meaning of climate action with no borders.
We don't know exactly how life originated on the planet, but I look forward to the future of life on our planet, in an abundant future where collective intelligence over competition is the new normal, where the Sumak Kawsay (Well Living) have become the paradigmatic shift we decided to take, decolonizing our relationship with mother earth as truly planetary citizens.
---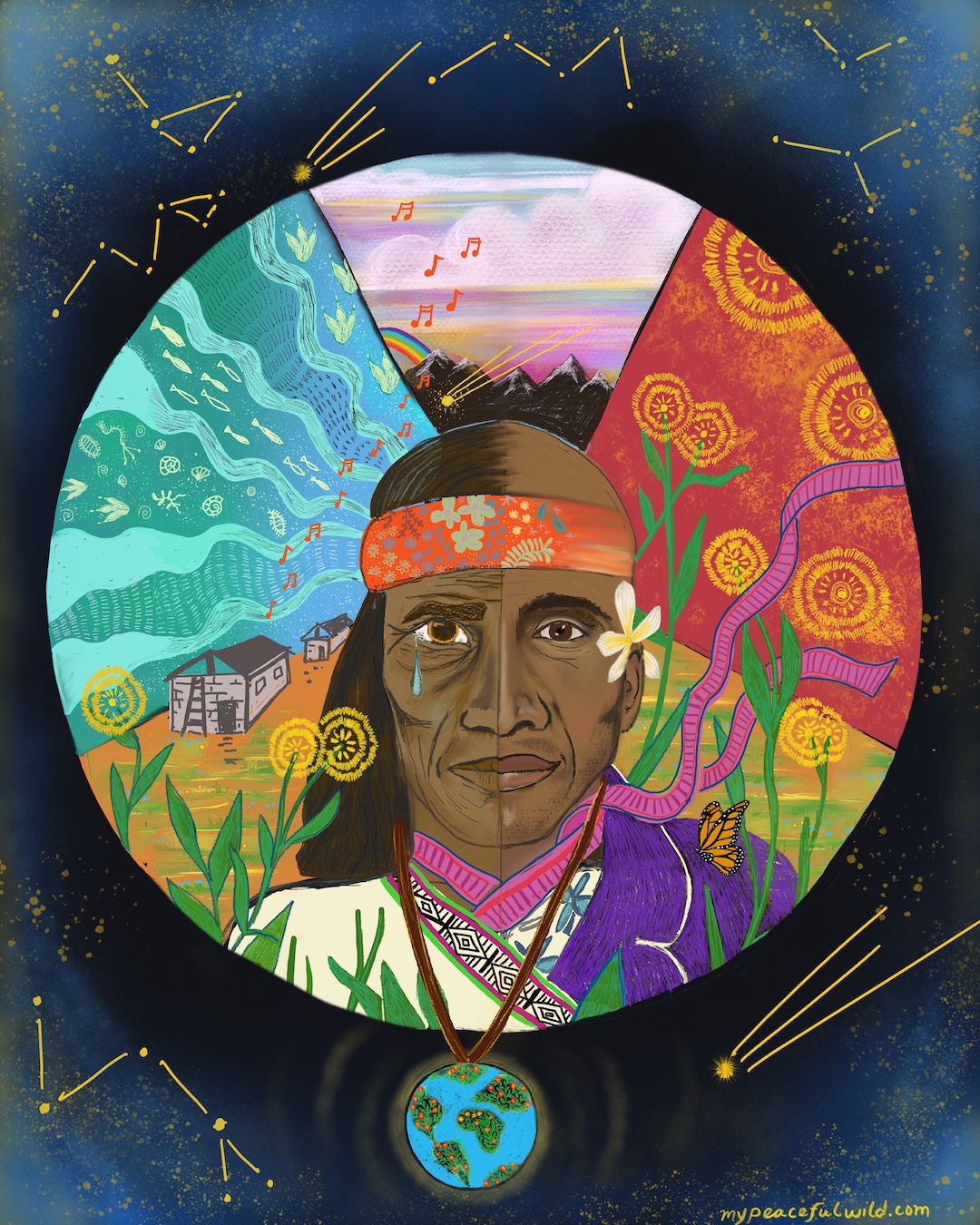 Stardust: Yo Soy & We Are
Poem conveyed by Nakárori "Rarámuri" ZacEnTlána Colimaitl, guided by his Ancestral Shamanic Spirits.
Illustration by Kelly Densmore @kellybreeart.
Yo soy (I am) the salmon hued cantera-Earth of Zacatecas and my rich ancestral Earth of the warm-glowing snow-capped Sierra Rarámuri that caresses my feet and embraces my being with a deep connection and foundation to bolster Climate Justice Advocacy! – Somos (We are) the colorful sounding Earth's embrace from our Ancestors…..
Yo soy (I am) the buoyant luscious Waters of Mazatlán that cradled me before I could swim; the vibrant life sustaining Water that I carried in buckets from El Encino's arid land's aquifers beneath my grandmother's mud hut, whose life force percolated my dreams, while I slept by her side as a child; and the Abalone Blue Polynesian waves that taught me to Surf. – Somos (We are) the same feeling and knowing Water from the Dinosaurs' last tears….
Yo soy (I am) the cool ancestral Volcanic Fires on the shimmering black sand beaches of Colimaitl that sustain my soul and bless my rituals. – Somos (We are) the first Fire sparked by the inspiring lightning bolt that shook our planet, whose power reverberates it's life force through us today….
Yo soy (I am) the Air that spreads the cultural songs, culinary scents, languages, and stories that infused my childhood Barrios with "Chicharrones conTostones" in Southern California, like East L.A., La Puente, and South San Diego. – Somos (We are) the savory and sweet looking Air from our Ancestors' first breath….
Yo soy (I am) Our Universe's Stardust that my Ancestral Shamanic Spirits Surf, Laugh with my Aura, Radiate from My Heart, Kiss my Cheeks, Tickle my Tummy, Sing to my Eyes, and Dance in my Ears. – Somos (We are) the Caressing Stardust from Our Universe….
We Are connected through our Earth, Water, Fire, and Air that originate from the Universe's Stardust. – May we collaborate in doing our part to nurture Our Planet and ourselves.
(A Tribute to Our Ancestors: My revitalizing well of Love/Compassion/Forgiveness in Global Indigenous Climate Justice)
---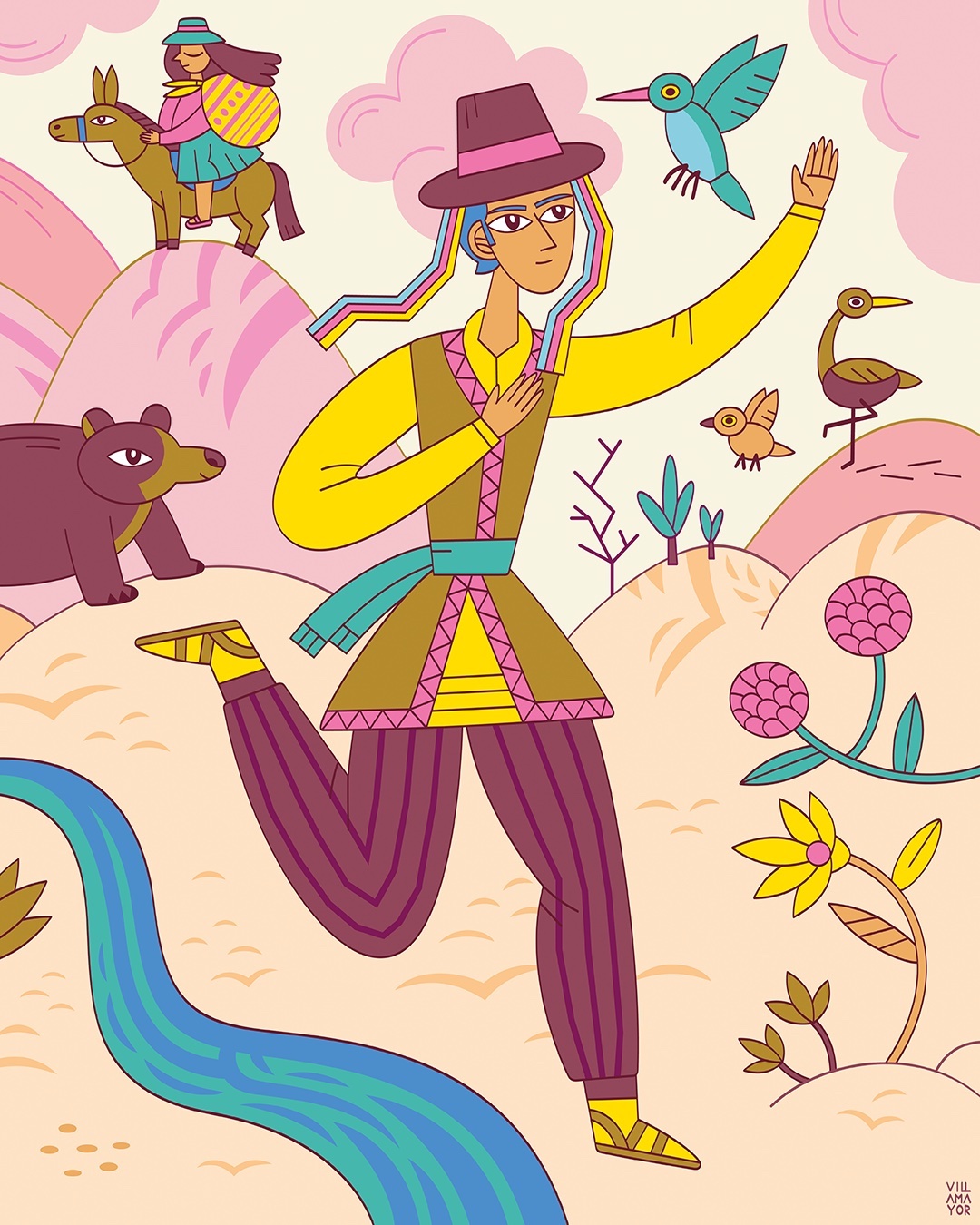 WIÑAY (grow)
Story by Floro Ortiz Contreras @floroortiz.
Illustration by José Villamayor @josevillamayor.ilus.
I come from a peasant community located in the central Peruvian Andes. My mother tongue is Quechua, but I learned Spanish in school. I consider myself a young indigenous Quechua who has attained higher education and, thanks to that education, have been able to travel, see, know and learn from other cultures. In this story, I would like to tell you about my community, Chungui, located in the province of Ayacucho, in the central Peruvian Andes.
What is best known of the long and rich history of my community are the sad events that we lived through in the 90s, due to the internal armed conflict in Peru. According to official data, 17% of the population was murdered and/or went missing; one of them was my father. Of those who were left alive, many fled to various cities in Peru. This tragedy caused the community's population to decrease significantly.
Chungui is also difficult to access, and the distance from the capital is great. As a result of this, we have preserved the rich and diverse cultural traditions: agro-ecological, landscape and biological. I still remember when there were no roads or cars; less than 30 years ago you had to walk for 5 days with mules and horses carrying the cocoa and coffee crops from the forests, climbing them along cobbled bridle paths to the puna and then continuing the route through the productive inter-Andean valleys and reaching the town of Sacharaccay. In this town, there was a fair, a road, and merchants. For us, that was synonymous with progress.
From these trips I remember not only the fatigue but also the landscapes, the people, and the towns. It was always believed that roads, cars, and cement were synonymous with development. The reality is that this supposed progress destroys our territory's cultural diversity. After the arrival of the road, Chungui has stopped producing a variety of high quality agricultural products, instead prioritizing the most profitable - potatoes and coca leaf.
As a biologist concerned about this deterioration, I have developed a series of studies of its various ecosystems since 2010. The results show a great biodiversity of flora and fauna, such as the Spectacled Bear, more than 400 species of birds, and 180 types of orchids. This shows the good state of conservation of these species, whose greatest relevance does not simply lie in their diversity but how they function in the ecosystem.
Peru is one of the countries with the greatest availability of freshwater, and Chungui is one of the places with the greatest number of rivers and lagoons in our mountains. In my town, they say this is thanks to Apus, the Andean mountain gods (the largest and most imposing hills) which, in the highest parts, are covered by grasslands, a landscape where the Ichu (Peruvian Feather Grass) abounds. Needle-shaped leaves condense water from the air and transport them to the roots. It's called "water sowing". Water is then harvested and stored in lagoons and wetlands. This is where the rivers begin before they cross the humid forests, made up of trees covered with mosses, ferns, and orchids.
Despite the obvious importance of conserving and preserving these ecosystems, they are currently in danger of disappearing due to the proliferation of illegal activities such as drug trafficking. These activities are destroying forests, distorting the local economy, and making young people replace the cultivation of native species for that of coca. All this happening in front of our passive (and sometimes complicit) authorities.
To counteract this, we must revalue our ancestral knowledge in joint effort with local, regional and national governments and communities, managing natural resources in a sustainable way that is adapted to our ecosystems and needs. By valuing ancestral knowledge, we revalue the past of the great nation that domesticated the Andes: building walls, platforms and canals. Our language, Quechua, sums up in one word the beauty of life in community and in harmony with nature: kawsay.
Today, revaluing ancestral knowledge would allow us to approach food security in balance with nature, strengthen our self-esteem and identity, and value our traditions and territorial diversity. That is the great challenge for the Peru Bicentennial.