We challenged nine artists and nine young storytellers to imagine a sustainable future resulting fram a just recovery. Take a look at their beautiful visions of the future!
The Future We Want – Stories of Recovery is a collaborative story and art project showcasing a feminist and queer vision of a just recovery and sustainable future.
The project is organized by Climate Illustrated and Project 19 and includes nine artists and nine storytellers from South Africa, Kenya, Chile, Chicago, Canada, Hungary, India, Tuvalu, and the Philippines.
Project 19 is a youth-led, international platform advocating for a just and sustainable Covid-19 recovery. Instagram: @project19_eco
The Fountain Pen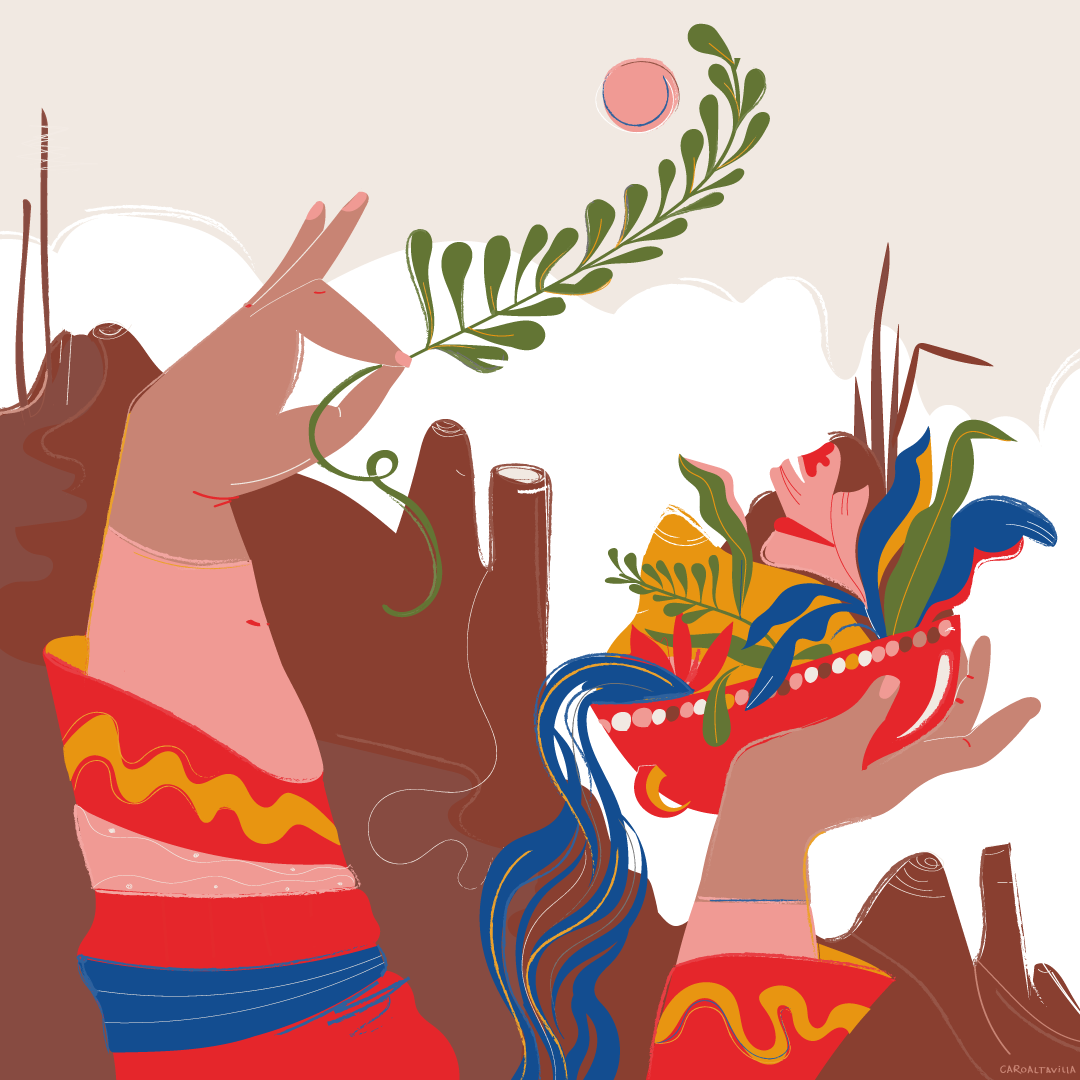 Story by Josefina Beletti (16) from San Felipe, Chile.
Illustration by Carolina Altavilla (@caroaltavilla).
My fountain pen led me to my rainbow utopic future. The values of our ancestors live in us today. Finally, we made it. Everything we fought for is an ideal reality: Pachamama (Goddess of Mother Earth, revered by the indigenous peoples of the Andes) taught us well. Those simple and vital values that our ascendants gave us were forgotten for a moment in the past. They were finally recovered and respected in order to form a new, more conscious civilization.
Nonetheless, living in Pachamama is not an easy thing. Earthquakes and tsunamis are still occurring, although we do not see them the same way as before. We understand that is the natural course of the Earth, and although we have written protocols to not lose any lives, we thank her either way. She takes, but above all things, she gives us everything. The entire cosmos wouldn't exist if it wasn´t for her. Pachamama is all around us. I can observe the Juncal glacier, the representation of perseverance and wisdom. The view of El cerro de la virgen, Hill of the Virgin, shows respect and goodness for all the creatures I can see from there.  El desierto de Atacama, The Atacama Desert, performs as the beauty of silence and harmony, with the beautiful Tamarugales. El pingüino de Humbolt symbolizes joy, honesty and friendship.
Alstroemelias have always been my favourite type of flower. When I wanted to tear off one and pull it away from its natural habitat, they taught me tolerance. Las ballenas azules, Blue Whales, those giant lovely creatures portray freedom. If you listen to them carefully, they always sing about what is inside a person, which is definitely worth it. 
Pachamama is a mix of all these things. She is always reminding us to follow these beautiful values she gave us.
---
Our Dream Is Now A Reality!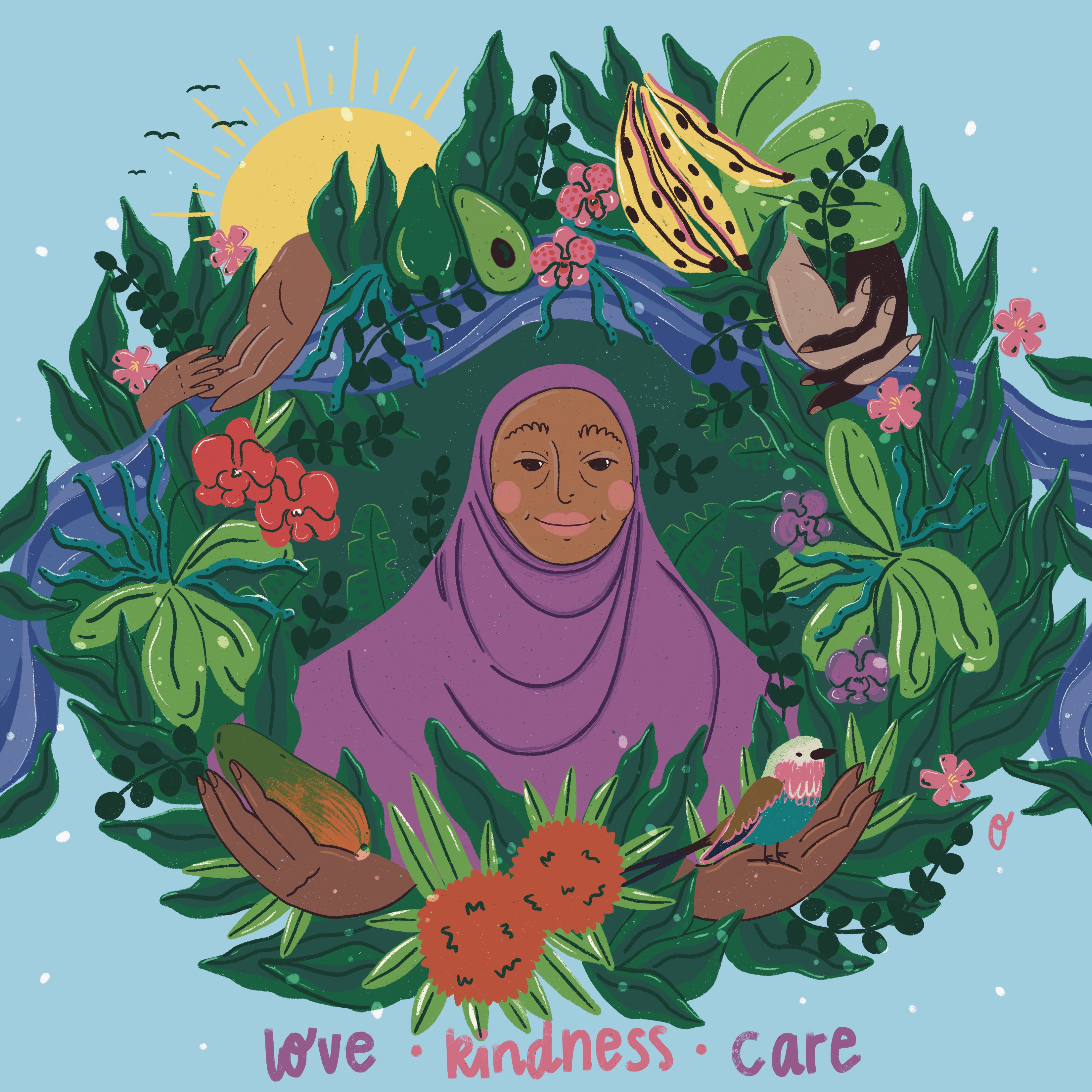 Story by Naima Mohamed (25) from Nairobi, Kenya.
Illustration by Orvokki (@mielenkuvia).
I start each day with a healthy organic breakfast that is locally produced. Agriculture is all organic and sustainable, free of toxic pesticides that damage the ecosystems. I savour the last piece of my meal without worrying of any damage it may cause to my body.
I feel strong, healthy and ready for a new day. On my morning walk, I enjoy the sunshine. The weather is so perfect. Our neighborhood is litter free and greener than before: trees have been planted outside each estate, and the place is cooler than it has been in years. Priority is given to Indigenous trees and fruit trees to make the town more food secure. The air smells so great and free of pollutants.  The city feels like a jungle now: very pleasant to look at, I can hear the birds chirping, leaves rustling and the gentle breeze is the icing on the cake.
I feel a sense of deep joy and excitement. The world is full of kindness, love and compassion. There is zero hatred, zero hunger, no unemployment and war. 
I write articles that empower people to live in harmony with nature. I am able to give back to my community in ways I never imagined. I work with children and my community, to make our world greener, cleaner and a safe space for all. We plant fruit trees in the schools in our neighborhood. Clean ups are done and with the great sense of responsibility, the neighbourhood becomes clean.
The government works with the community to upgrade the informal settlement bordering the city. There are no more shanty homes, and all the settlements on riparian zones will be relocated and upgraded. Nairobi River will be rehabilitated and protected by all.
There is a great sense of community where everyone, irrespective of their gender, sexual orientation, religion, colour, race and all forms of identities, are loved and welcomed. My world is just how it should be, full of love, kindness and care.
---
reGENERATION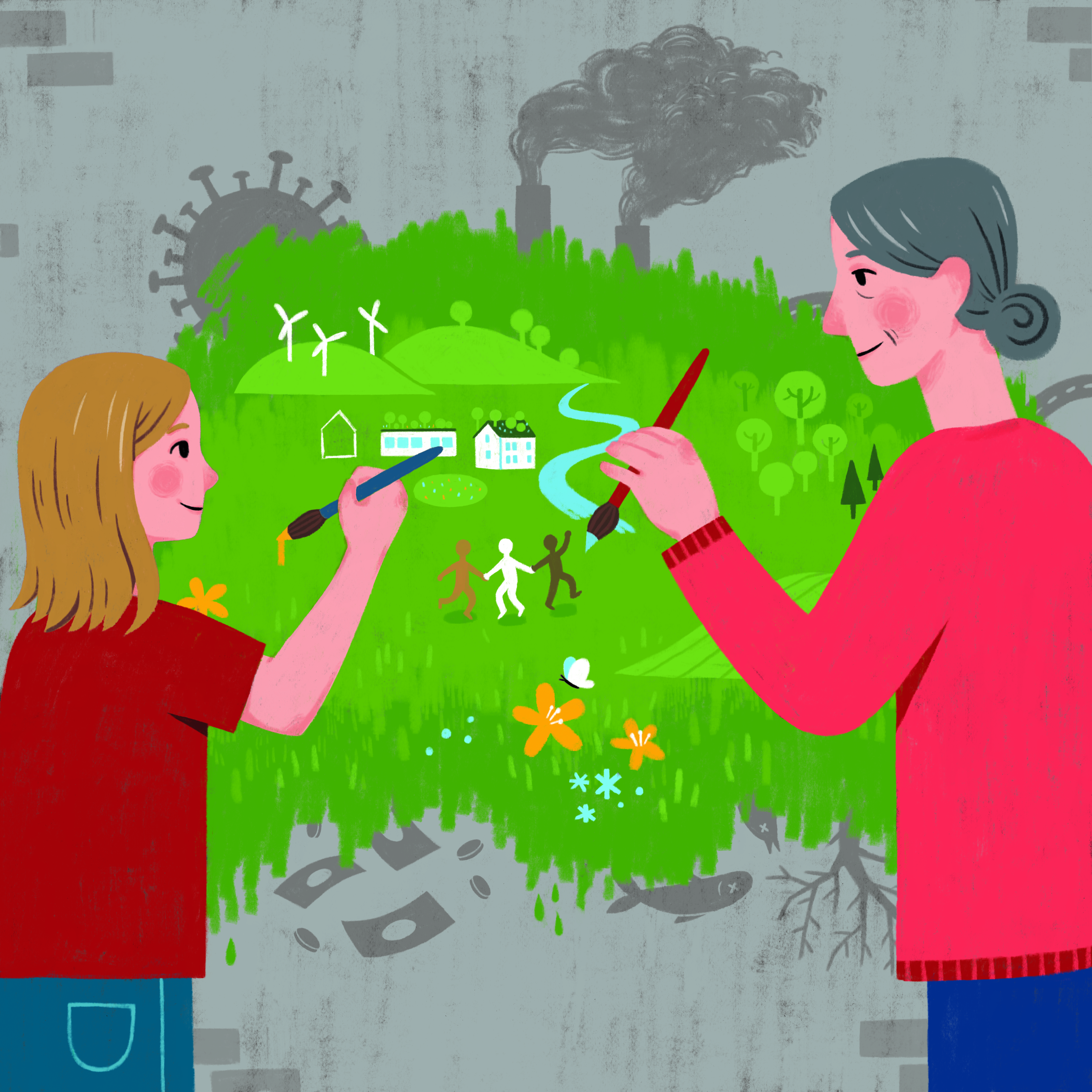 Story by Sydney Whiting (18) from Lethbridge, Canada.
Illustration by Luise Hesse (@lufie.nesse).
As an aging grandmother, I finally decided to move back home to Alberta. Now, I see parallels between my perceptions about the world as a former teenager, and those of my granddaughter. In each generation, we rise as relentless changemakers. Our struggles may be different, but the core cause of preserving human dignity remains the same.
A lot has changed since I was protesting in the streets. The Alberta partisan battles of environmental exploitation and greed have effectively ceased. Now we recognize that protecting our home is not a political nor corporate battle: it is a human right. I tell my granddaughter stories of the Fort McMurray wildfires, the Calgary hailstorms, the High River flooding—many among Canada's costliest natural disasters. Her and I contrast this with our current world— a world with leaders who recognize that Global equality stems from economic and social equity.
I came home to a city which embraces Truth and Reconciliation, instead of letting racism — and environmental racism — perpetuate in our community. I came home to a province which prioritizes a diversified circular economy, environmental protection, and empathy. To a community built on intergenerational hope, instead of divisiveness among the young and the old.
As a young activist long ago, I learned invaluable lessons by spanning traditional generational divides. I tell my granddaughter how the young and the old — novices and experts — worked harmoniously. And how the power rests in her to do the same.
For all we have struggled, I would not change the past.
For you see, grit is a coping mechanism for uncertainty. 
Cooperation and passion stem from a common goal, and it spans across all generations. That grit is what got us through the Covid-19 pandemic many years ago, and it will be grit that fuels my granddaughter into enacting more social change. 
I am proud of her, and I am proud of us. Push on.
---
The Future is Ubuntu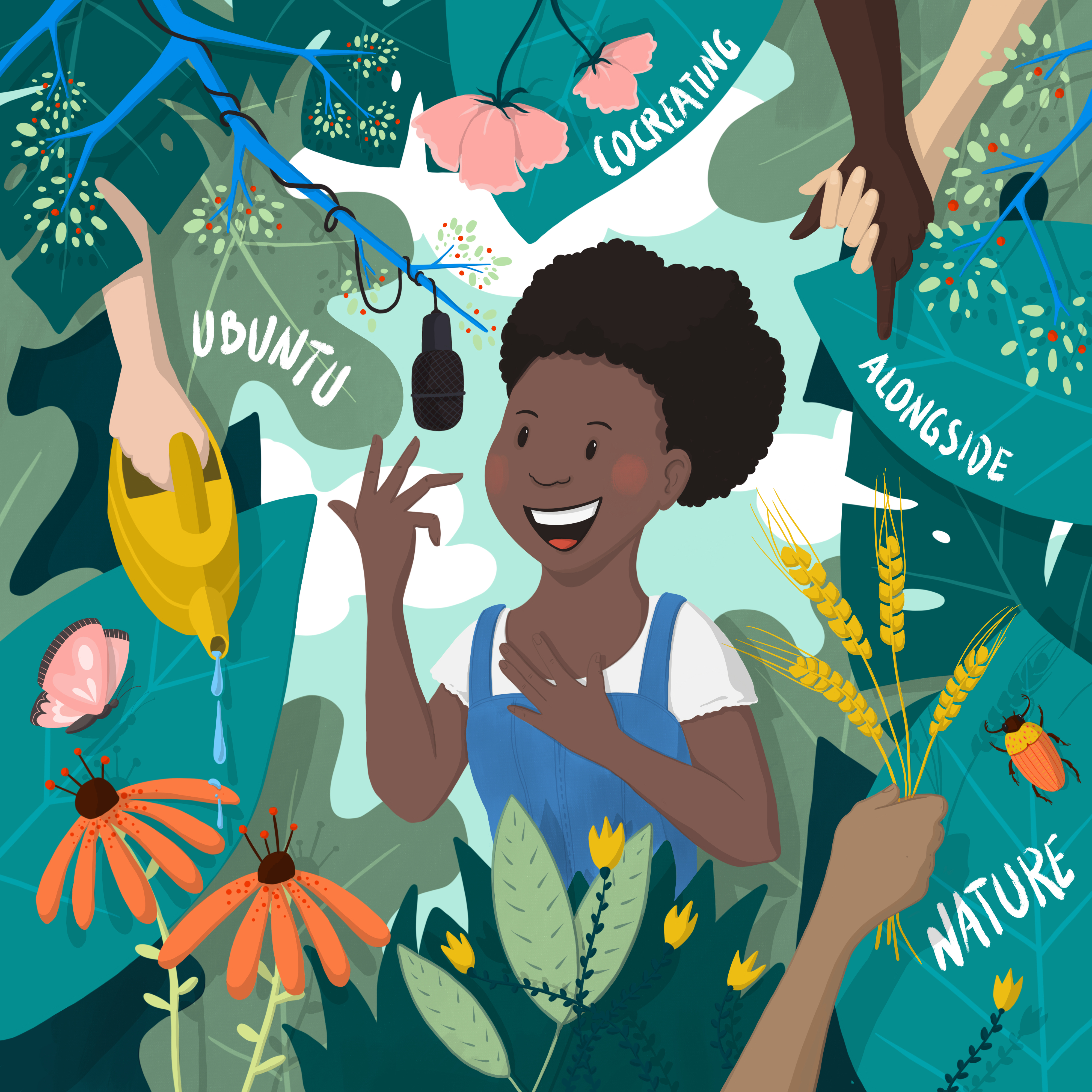 Story by Shelot Masithi (22) from Polokwane, South Africa.
Illustration by Stefanie Bendfeldt (@nordicworkingcom).
​​During the COVID-19 pandemic, my depression took a toll on me. Nothing was worthwhile anymore. I felt I was done with life. At least I thought I was. In my hopelessness and anxiety, I started a podcast.
The podcast gave me a voice, the power I never thought existed in me. Many young people began to interact with me as they began to see and understand the urgency of climate action. I lost friends and family members for standing firm on what I believe in, Ubuntu environmentalism. 
Ubuntu is a South African Indigenous philosophy of togetherness, meaning, Umuntu umntu ngabantu (I am human therefore we are). It refers to the interconnectedness of all humans -– the intersectionality of humanity, nature and biodiversity. Ubuntu is unity, love, and kindness, and holds us to a moral obligation that we are in this together and we need each other. 
Ubuntu environmentalism created a constellation of a new generation of climate justice leaders. It was Ubuntu that brought nations together to fight Covid-19 and the climate crisis. Ubuntu is what I have learnt and continue to live in this green world today. 
It is beautiful and peaceful here, with so much peace and love in our world. Mankind embodies Ubuntu, living it, experiencing it. The beauty that shines through the children's smiles is unimaginable. No more quarrels and quivers of people fighting each other over resource scarcity. I committed myself to changing the greenwashing spheres that were shaping the world into the wrong direction. I am proud of myself to have won such a difficult war in the history of mankind.
Out the windows, the trees are clustered into a beautiful poem, and flowers into a soothing song. The birds are chirping gracefully, and the clouds won't stop smiling. The Earth is green again. This is the future I have fought for. 
Never again shall mankind fight nature to feed its greed.
---
Coffee with Mrs. Davis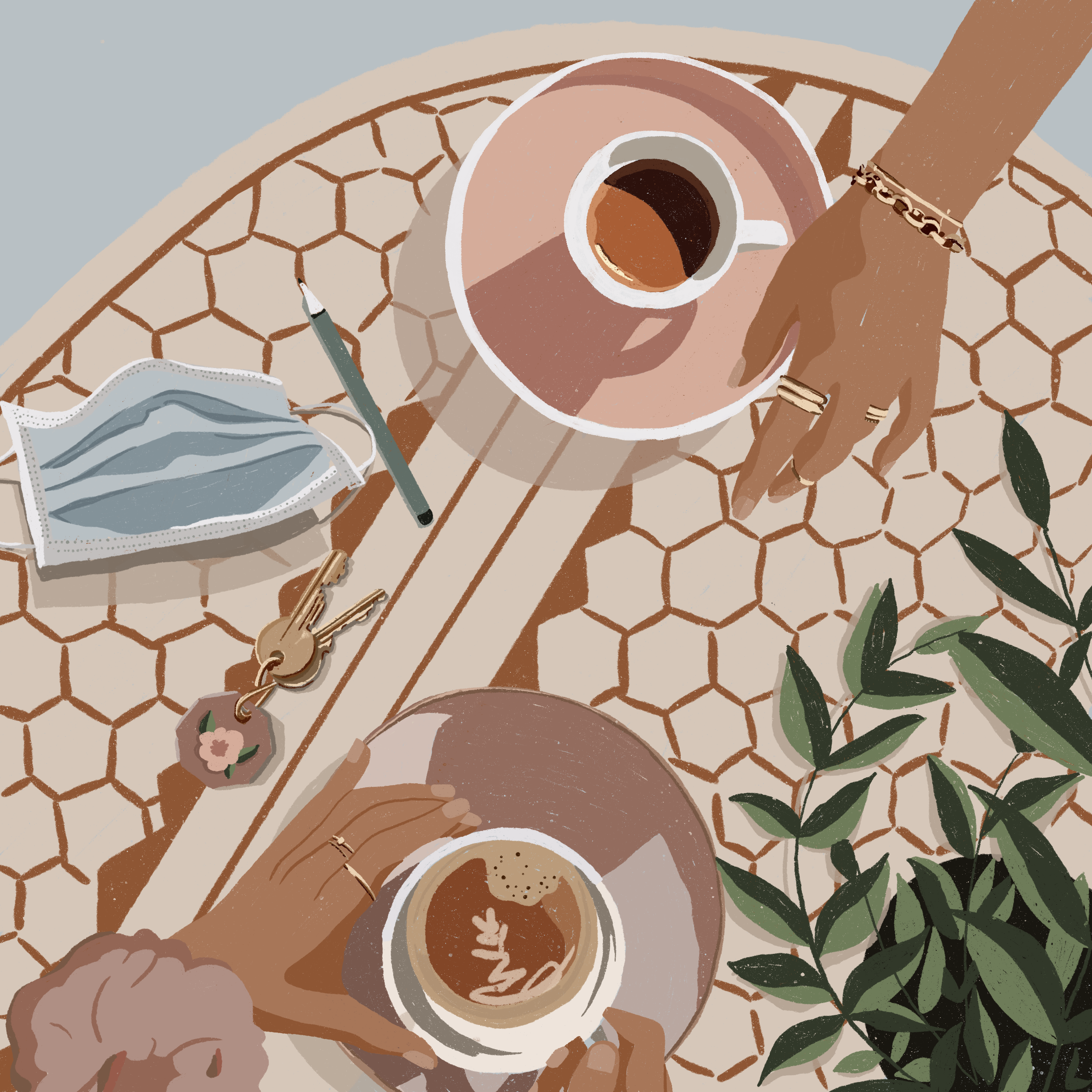 Story by Summer Libelle M. Espiritu (16) from Baguio City, Philippines.
Illustration by Tara Clayton (@taralynnclayton).
I opened the door and reached out to feel the heat and a soft ray of morning sunlight landing on my fingertips. A cool wind calmly countered the warmth.
Back then, the Philippines could've been called Typhon's home. You could hear the cries and wails of people struck by storms, volcanic forces and disaster after disaster. That's not what I heard today. I haven't seen a catastrophe in a long time. Things have changed.
Panting, I turned around to see whose voice it was. There was my neighbour, Mrs. Davis, standing in her doorway. She'd moved into the apartment across from mine in 2020. "Really, honey, the pandemic is over, relax." she said and smiled at me - all the sharp points in her face turned gentle. I was so used to the mask. The pandemic lasted a really long time. My body and brain was still hardwired to function the same way it did during the pandemic.
Mrs. Davis looked at me with eyes of concern and endearment. "Would you like to come in for some coffee?" It had been a while since I've had coffee with anyone. Or a meal. Or done anything, really. I had been doing things alone since the pandemic started, and it had not occurred to me that I don't have to, now that it's over.
We sat down and I listened as she told stories. I had never seen her without a mask before. Her smile was beautiful and her skin had the tone of honey under the sunlight. "You're beautiful," I blurted out suddenly, and she just smiled.
I'd known her lovely eyes, but that bright, kind smile was enough to bring me happiness for a lifetime. It was a different sort of joy; something new. When she touched my shoulder, I felt something I hadn't felt in a long time — the warmth of human touch and the compassion of a friend. I am not alone anymore.  This is the new normal: seeing the beautiful smiles of our neighbours, having a kind and compassionate friend, and feeling a sort of happiness like never before — a new happiness. 
---
Enchanting Mother Earth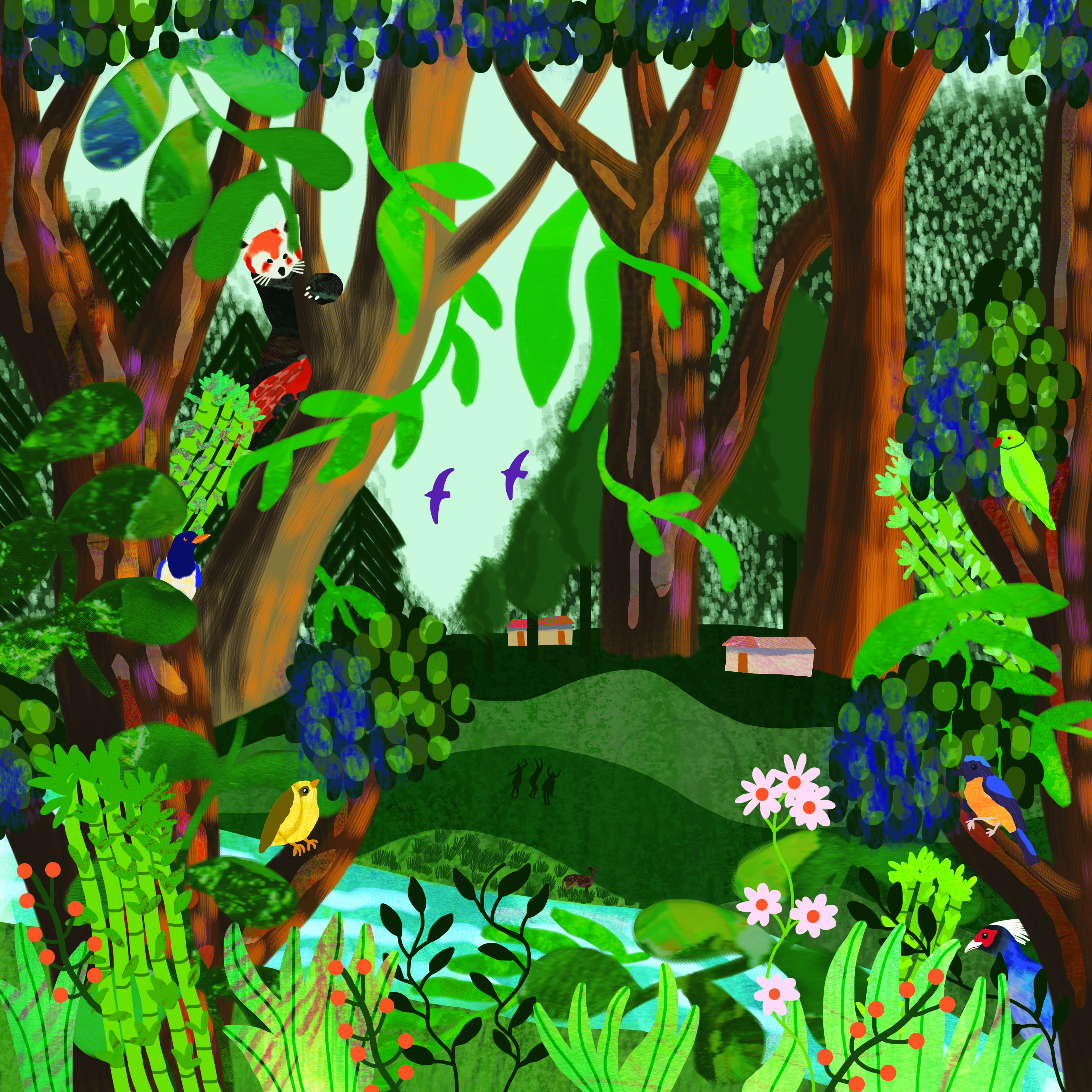 Story by Snekha (20) from Thanjavur, Tamilnadu, India.
Illustration by Amelia Brooks (@amelia__brooks).
I always wished for a future filled with all happy memories. Around the world, pleasant sounds of Mother Earth fill nature. I once was deprived, when I lived in the world that destroyed our holy nature. I dreamt of a future filled with joy; where nature filled people with hope.
I am in a place full of trees, surrounded by the smell of earth, songs of chirping birds, and the music of water. The songs of birds and trees make us feel like we are enlightened, born as children to mother earth. I am enlightened and dancing. In my life I am bonded with nature.
In the past, we made our life modern with fast living: fast food, fast transport, fast traffic. Before being developed and changed, my city was once a haven filled with birds, trees, and nature. We had hoped to save nature. Nothing can be as delightful as being bonded with soil, water and air; enjoying what we harvest ourselves in our haven. We have recovered our mother nature and conserved the environment without any selfish greed.
Our lives are truly bonded with nature. People always find joy in nature. We harvest our foods from our mother trees, enjoying every inch of happiness. Clean, clear water flows through. We breathe fresh air, and there is a chill breeze flowing through our hair. We are waving and dancing, showing how happy we are when connected with nature.
There is a great, immense joy ahead.
---
An Accepting Hungarian Society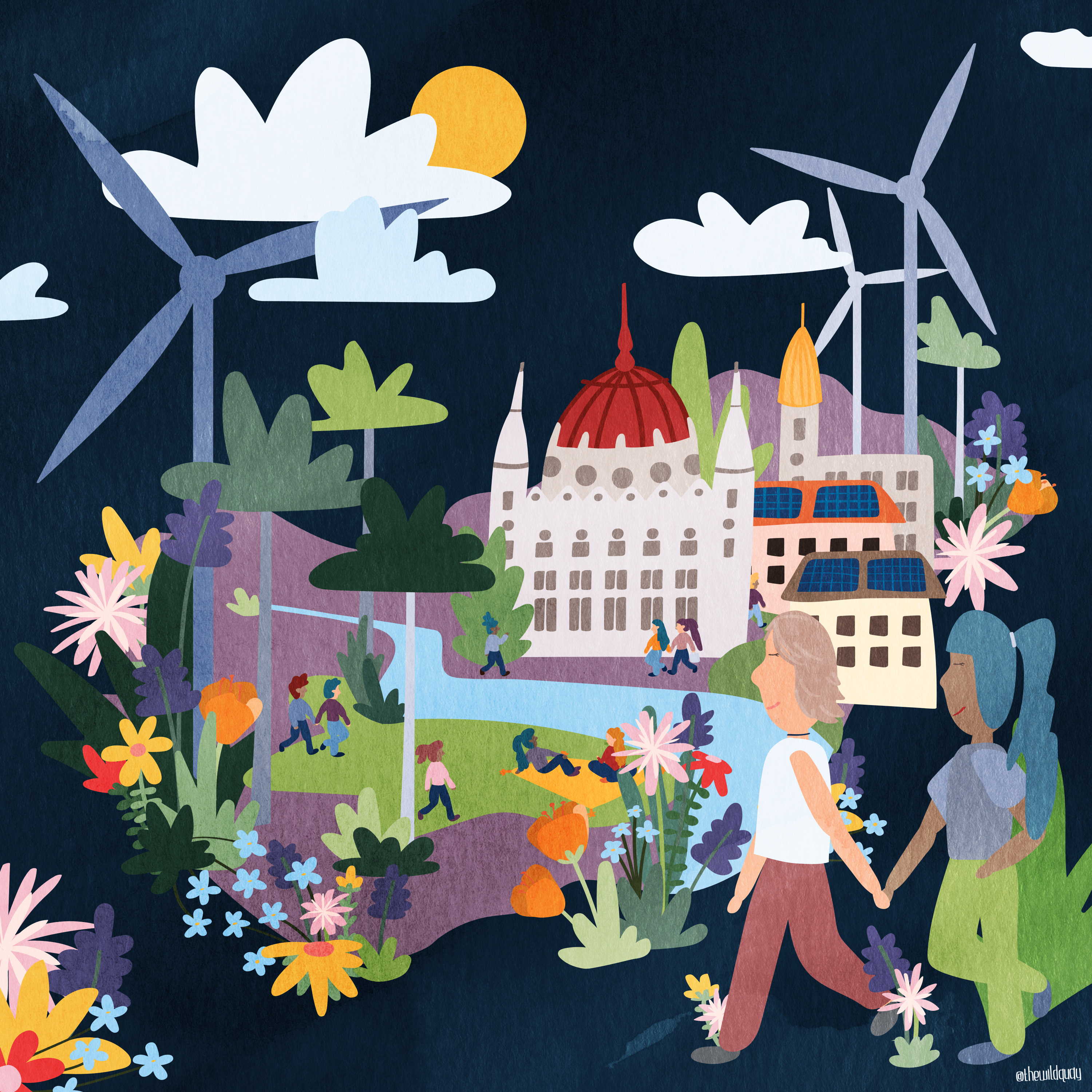 Story by Lili Aschenbrenner (17) from Budapest, Hungary.
Illustration by Ashley Quay (@thewildquay).
Our society in Hungary has changed drastically since the Covid-19 pandemic.
Our government has changed, and we are now able to trust them. There is a strict system ensuring the transparency of all decisions taken by our leaders. The people of our country are no longer ignored. Now, decision making happens through citizens' assemblies that are organised in local communities!
As a result of all the work of Fridays for Future and similar movements, we are working on conserving as many green spaces as possible, trying to undo all the damage that has been done to our forests, lakes and rivers. It's no longer illegal to build wind turbines, and so solar energy is less expensive! We are not reliant on power plants, but instead on reusable energy sources. The people who worked in power plants and other areas of work harmful for our environment have transferred to green jobs. Carbon taxing laws have been implemented.
Community effort has made things possible. The minimum wage increased. Unhoused people receive more support, jobs and free accommodations that can help them. The education system is different: it's intersectional and doesn't have unachievable expectations towards the students. People are unlearning their racist biases and moving away from colonized thinking. One doesn't need to go to a private school for a decent education. In-person learning is only an option. University is accessible and free to all!
I no longer feel unwelcome here. Gay marriage and adopting children for LGBTQ+ couples is legal! I'm able to go out with my partner and hold hands without the fear of hate crimes. My gender is recognized on my documents. I'm not scared of surprise bills prohibiting the recognition of my existence. People are accepting, which seemed unimaginable a few decades ago.
It's a work in progress. We are working towards intersectional justice and a just society.
---
The Fruit of Adversity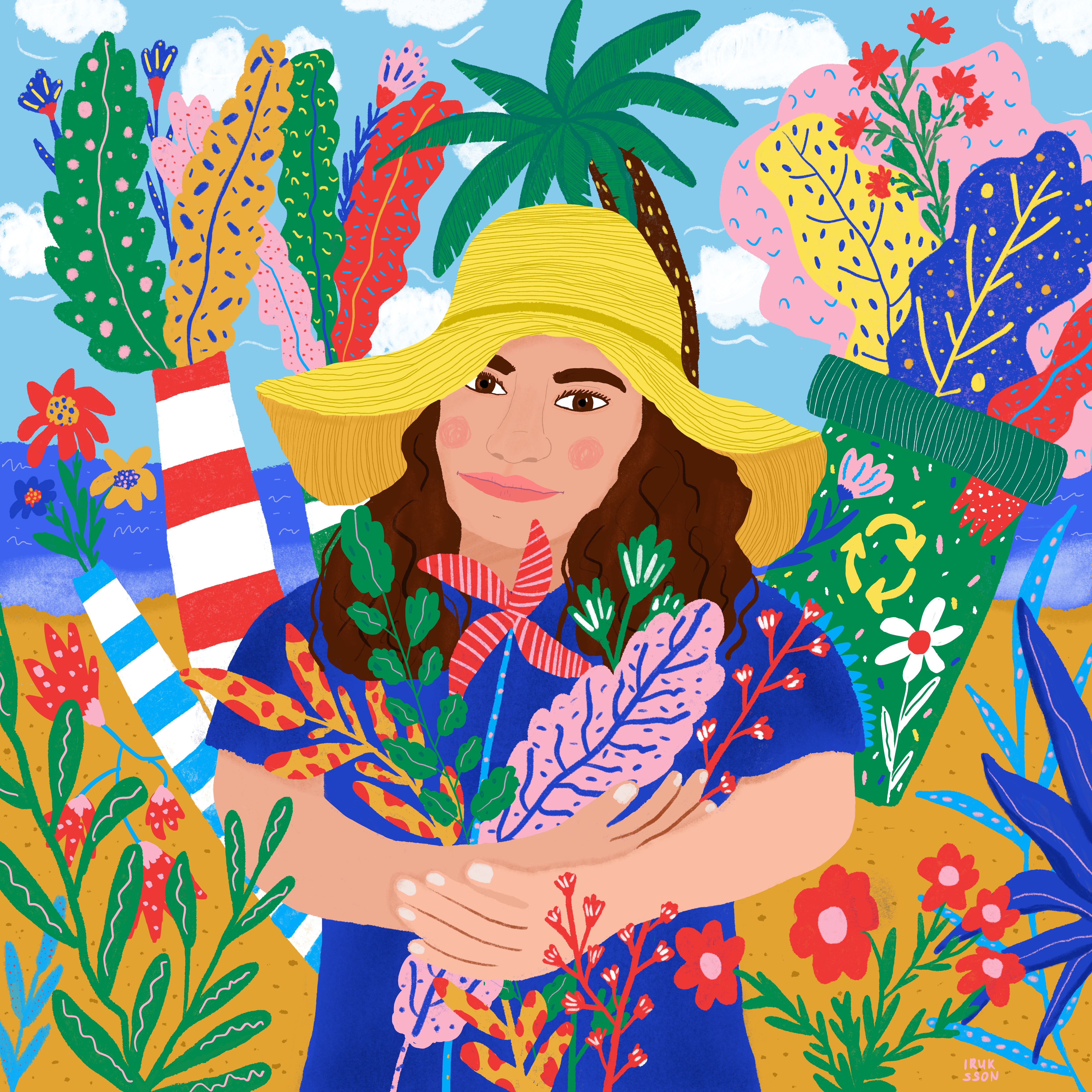 Story by Abigail Lotoala (24) from Funafuti, Tuvalu.
Illustration by Irina Pavlova (@iruksson).
Working to achieve full recovery from the COVID-19 pandemic was an overwhelming experience for me. I watched as millions lost their lives to the virus, including loved ones. I had to stand at a distance and watch as a loved one was being buried. I cried so much that day as I was not able to give my farewells in person. I regret not spending as much time as I could with my family before the pandemic happened. 
I have learnt to really value my family, relatives, and friends because when I needed supplies or just someone to talk to during the pandemic, they were always there to help me, even though we could only talk virtually. Businesses and schools were forced to close down, people lost their jobs and could not make ends meet—poverty levels increased. I could not complete my degree the way that I planned, and that really upset me. But I later realized that while all these events took place, our planet Earth was slowly recovering. Since there were no commercial activities taking place, there was less pollution, less exploitation of natural resources. And this was when I looked at COVID-19 from a different perspective. I feel guilty for saying this but, COVID-19 helped our planet heal over time. There is now an abundance of resources, and we all now practice sustainable living because we see the value of nature.
There is now technology placed in all cities that people use to dispose of their waste and the machine recycles it. There are also improved policies that are more effective compared to previous years. I am happy with how humanity has changed for the better good of our planet. There is less pollution taking place and we are more appreciative of mother nature. We are all working together to ensure a greener future.
---
A Morning in a Just Recovery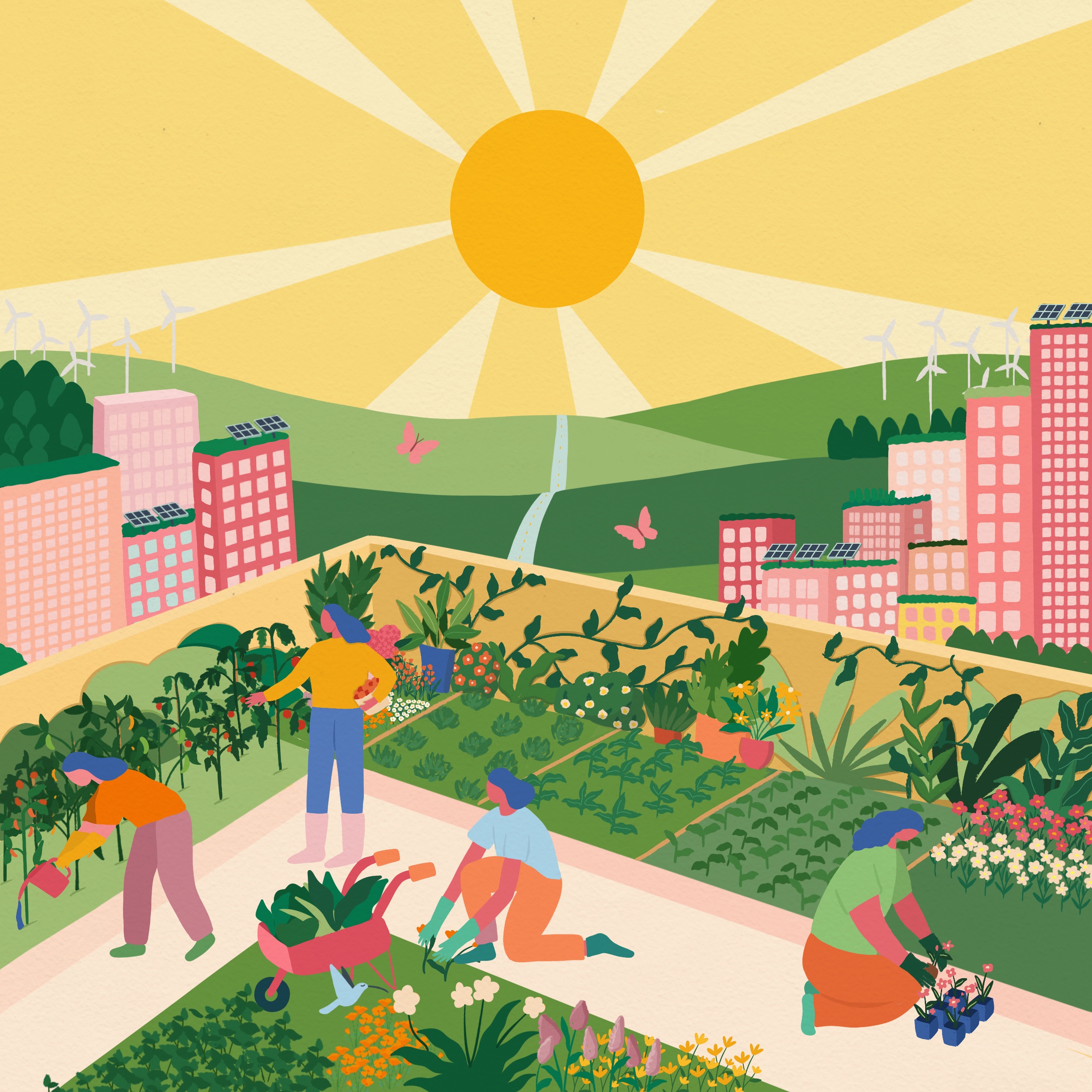 Story by Eliana Bernat (17) from Chicago, US.
Illustration by Burcu Koleli (@burcukoleli).
As I wake up, the sun streams through my window and I hear birdsong. I look outside and see clear skies— not smoggy from air pollution or smoky from wildfires. Now that we've transitioned away from fossil fuels and everything runs on renewables, we don't have to worry about unknowingly breathing in toxins just by living our daily lives. 
After I get ready for the morning, I walk the stairs to our building's rooftop garden. Before COVID-19 hit, community gardens were fairly uncommon, and those that did exist were mostly in white and affluent areas. Now, almost every building and community has one. Since I had some experience gardening, I helped plant the vegetables, while others worked on constructing the garden boxes or setting up an irrigation system. I check on the tomatoes, lettuce, carrots, and herbs before taking some veggies down to my apartment to make my breakfast. As we recovered from the pandemic, our sense of community strengthened and our food systems became much more localized. No longer do we rely on big agriculture corporations to grow our food; small, local farmers are supported and most of our food comes from them. 
After I finish my breakfast and I'm ready to head off to my job, I stand outside waiting for the bus. Like buildings and homes, buses are all electric now, thanks to the government's investments in infrastructure and clean, accessible public transportation. I only wait a few minutes before the bus arrives. As I climb the steps onto the bus, I feel a sense of gratitude swell in my heart for everyone who worked to make our world what it is today. 
---